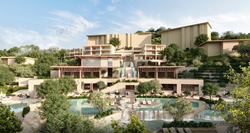 MIAMI (PRWEB) December 13, 2022
GFG Securities announced today that it acted as the exclusive investment banker to Revolution Places, LLC on the development of the Waldorf Astoria resort, managed by Hilton Worldwide, in Guanacaste, Costa Rica.
GFG Securities Co-Founders Mauricio Gruener and Eduardo Gruener, alongside managing partner Leon Perez, led the transaction.
GFG Securities separately arranged a $41 million equity placement and a $69 million construction and financing facility for the development of the newly constructed resort.
Construction of the resort began in the third quarter of 2022, with anticipated completion in 2025 as part of the Cacique Costa Rica community. Operated and managed by Hilton Worldwide, the barefoot luxury resort will emphasize architecture that blends into the surroundings and offerings to connect guests with the region's scenic coastlines, volcanic landscapes, and tropical forests. Landscaping will focus on native flora and fauna and all resort vehicles utilized on the property will be electric.
As the first Waldorf Astoria on the Costa Rica's Gold Coast, the resort will offer 190 luxurious guestrooms and 25private residences. Resort amenities will include a wellness center with thermal pools, a state-of-the-art fitness center, and a spa.
"Waldorf Astoria Guanacaste will be a unique luxury product and experience with a premier location and is set to provide a valuable complement to the region's hospitality offering in a market with significant barriers to entry," said Eduardo Gruener, Co-Founder, and Co-CEO of GFG Securities. "GFG Securities appreciates the opportunity to arrange equity and debt financing on behalf of a very strong sponsor."
"Costa Rica's lodging market continues to attract institutional capital. The Waldorf Astoria Guanacaste exemplifies what investors want: a high-quality asset and strong-performing brand," added Mauricio Gruener, Co-Founder and Co-CEO of GFG Securities. "Demand in the region continues to grow, and the property's location in Punta Cacique remains one of the most sought-after submarkets."
"This project was unique in many ways – its mesmerizing location and iconic coastal views position the project to take full advantage of all the positive developments taking place in Guanacaste," said Leon Perez. "The execution of this project by GFG Securities in a historically challenging market from a development equity point of view only reinforces the strength of our team members and relationships to get our deals done."
"This sustainable luxury project will help more people explore and connect with the natural beauty of Guanacaste. We are grateful for the efforts of GFG Securities that brought this project to fruition," said Steve Case, Founder, Chairman and CEO of Revolution Places.
About GFG Securities
GFG Securities, LLC ("GFG Securities") is a boutique real estate investment banking firm that assists public and privately owned businesses with domestic and international investment banking services, including equity and debt capital raising, mergers & acquisitions, and strategic consulting services. Headquartered in Miami, FL, GFG Securities has acted as the primary liaison in debt and equity capital raising transactions in excess of $1.9 billion with average transaction values between US$20 and US$500 million. Visit http://www.gfgsecurities.com for company information.