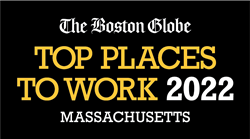 "Honors like this are so meaningful because they're based on the opinions of our associates, whose dedication, kindness and professionalism make our communities the special places to live and work that they are." -Tom Grape, founder, chairman and CEO, Benchmark Senior Living
WALTHAM, Mass. (PRWEB) December 01, 2022
Benchmark Senior Living, the largest senior housing provider in New England, today announced it has been named one of the Top Places to Work for the 15th straight year in The Boston Globe's annual employee-based survey. Benchmark is the only "largest employer" (over 1,000 employees) to make the list every year.
"Being named a Top Place to Work for the 15th year in a row by our associates is a great honor. The team at Benchmark works hard to 'transform lives through human connection' for our residents, their families, and our hard working, heroic associates," said Tom Grape, founder, chairman and CEO of Benchmark. "Honors like this are so meaningful because they're based on the opinions of our associates, whose dedication, kindness and professionalism make our communities the special places to live and work that they are. We work hard to build a culture in which everyone feels supported, welcomed and valued."
Through anonymous employee surveys, Top Places to Work measures employees' opinions about their company's direction, execution, connection, management, work, pay, benefits and engagement. Winners share a few key traits, including offering more flexibility to continue working remotely, tracking progress on efforts to support a diverse workforce, and, above all, remembering to have some fun along the way.
Benchmark appears on the 2022 list with some of New England's most respected companies, including Enterprise Bank and Massachusetts Medical Society.
"The pandemic has changed the way we work, and the employers who topped the list understand it goes far beyond the remote vs. in-office debate," said Katie Johnston, the Globe's Top Places to Work editor. "Workers want flexibility, of course, but they also want more support, more humanity, and a greater sense of purpose."
In addition to The Globe list, The Great Place to Work Institute certified Benchmark for five straight years, and the company earned a place on FORTUNE's 50 Best Workplaces in Aging Services four times. Throughout its 25-year history, the company has earned a reputation as a top workplace as recognized by the Boston Business Journal, Connecticut Post, Hartford Courant and Hartford Business Journal, and as one of the healthiest employers by Boston Business Journal and Providence Business News.
In addition to a comprehensive employee benefits package, Benchmark offers a wide variety of educational programs, including Benchmark University, associate incentives and support programs like the Benchmark One Company Fund and recognition and inclusion programs designed to sustain its award-winning culture of caring.
For more information about a career at Benchmark's senior assisted living, memory care assisted living, assisted living with memory care or independent assisted living communities, visit careers.benchmarkseniorliving.com/.
# # #
About Benchmark Senior Living
Benchmark is New England's largest senior living provider with 64 independent living, assisted living, memory care and continuing care communities and over 5,000 dedicated associates providing compassionate care and outstanding experiences throughout the Northeast. The Waltham, Mass.-based company was founded over 25 years ago by Tom Grape with the purpose of Transforming Lives Through Human Connection. Since then, Benchmark has continued to set the industry standard, having won over a hundred local, regional and national awards for its care, programs and as a top workplace. Benchmark has been named one of the Top Places to Work for 15 straight years in The Boston Globe's annual employee-based survey and received repeated recognition in FORTUNE's Best Workplaces for Aging Services list. For more information, visit BenchmarkSeniorLiving.com.