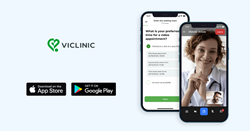 ViClinic caters to the needs of a new generation of physicians, including work-life balance and scheduling control, competitive compensation, autonomy in clinic-based decision-making, and mentorship opportunities to learn and grow.
MIDDLETOWN, Del. (PRWEB) December 07, 2022
ViClinic is a tech company that is providing a robust Software-as-a-Service (SaaS) solution that's available to practices of all sizes. ViClinic founder, Boris Jinjolava, has found that not only does this enable healthcare providers to connect with their patients virtually for appointments and see patients online, but it can help them manage patients offline as well thanks to tools for scheduling patients, charting their health history, prescribing medication, and connecting via a new platform. As a virtual care manager, ViClinic is supplying providers with tools like:

Secure patient and inter-office messaging
Patient medical documentation stored directly on the ViCinic platform
Video consultations and visits
A dedicated, professional phone line
Two-way texting and scheduled message sending
Auto-replies to patients
E-fax messaging
Urgent triage and escalation as needed
Why does this matter? This kind of SaaS tool makes it easier for smaller practices to compete with ever-growing healthcare conglomerates, manage more patients in one place, and expand their practices. What's more, this virtual clinic management tool enables telehealth services, which consumers are clamoring for. ViClinic's telehealth services and comprehensive digital health platform can be an important lifeline for independent physicians and smaller private practices. The team at ViClinic has found that the newest generation of physicians may find the draw of working in private practice or small clinics appealing, but they want to be sure it's the right solution for them before they dive in headfirst. They even have the research to back these observations up. Beckers' ASC Review recently spoke with several physicians about what private practices must provide to draw in new physicians. Boris found their responses enlightening, as they came down to a few common themes:
A work-life balance and scheduling control
Competitive compensation
Autonomy in clinic-based decision-making
Mentorship opportunities to learn and grow
Healthcare providers who work in private practice or small clinics, are looking for options to expand their new practice or continue to work in a limited capacity as they near retirement are finding the solutions and the support they are looking for in virtual care management tools—and many are finding that (and more) in ViClinic. ViClinic's features go far beyond just telehealth solutions; the platform offers so much more than just virtual appointments. SaaS tools like ViClinic are offering physicians the tools they need to schedule appointments, manage in-person appointments, meet with patients virtually, keep patient records, share recommendations and prescriptions, conduct follow-ups, chat with patients, and keep track of their entire practice at a price point that makes sense for them. This gives physicians and healthcare providers the power to establish a work-life balance, while also providing patients with the flexible features and tools they might find in a large healthcare network or hospital conglomeration. ViClinic works with many health plans and insurance providers and is already being used for a range of specialties, including:
Family and emergency medicine physicians
Internists
Pediatricians
ENTs
Dermatologists
Women's health providers
Behavioral therapists and psychologists
Registered dieticians
Physicians who are considering retirement can continue their medical practice on their own terms, and new physicians have the structure and tools necessary to attract new patients and build their practice. ViClinic is passionate about providing healthcare professionals with the infrastructure they need to practice medicine their own way. We invite physicians to create a virtual practice on the ViClinic website or get it on the App Store or Google Play.
Yum651 N Broad St
Middletown, DE 19709