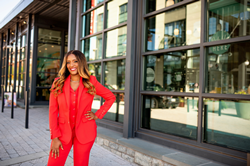 "I truly believe that once you realize your full potential or P2D, it is up to you to cultivate and inspire others to do the same. We must never stop looking to the future and investing in the next generation of leaders that we once saw in ourselves."
WASHINGTON (PRWEB) December 06, 2022
While success can often appear to have happened overnight, the truly successful know that it takes time to break through. Tabatha Turman's dynamic life is proof. The combat military veteran turned entrepreneur shares her keys to success - from her first job as a teenager behind the cashier at a St. Louis McDonald's to her company's recent $350 Million win in the new book P2D: Elements of a Growth Mindset.
Tabatha got her first paycheck as a teenager working as a cashier at Mcdonald's. At the time, her goal was simple: earn enough money to buy her own clothes and concert tickets. But little did she know her three-year stint at the fast food chain would start her journey to uncovering the passion, purpose, and drive that she would come to lean on throughout her career.
After high school, she entered the military and had the honor to serve for twenty years. While enlisted, she found herself dodging mortar rounds more than once while serving her country.
"I am confident that most, if not all of the triumphs and failures over the years were to teach me that there are rewards and consequences associated with life's choices," she said.
Tabatha recounts her last assignment on active duty from 2004 to 2005 as a finance detachment commander in Iraq as her toughest. Little did she know that one day the experience she gained from this assignment would help her at her company IFAS in managing forward-deployed employees in Iraq, Afghanistan, and Kuwait. She could manage the project operations on the ground without physically being there based on past experiences serving in Iraq.
Maintaining a glass-half-full mentality, she says she has used the lessons from the battlefield in business and life. Throughout her leadership journey, every assignment she was given was all part of nurturing her P2D.
Fast-forward to today, Tabatha has been in business for fifteen years. This summer, her company IFAS sealed the deal on a $350 million contract to provide support services to the State Department's Bureau of the Comptroller and Global Financial Services. She attributes that massive win to being able to effectively tap into her passion, purpose, and drive (P2D). Now she's on a mission to inspire others to unlock P2D for themselves.
"I truly believe that once you realize your full potential or P2D, it is up to you to cultivate and inspire others to do the same," Tabatha said. "We must never stop looking to the future and investing in the next generation of leaders that we once saw in ourselves. By reaching back and investing our time, treasures, and talent we inspire the next generation to become dreamers outside of their current circumstances."
As an African-American businesswoman, Turman is in a league of her own. But she believes anyone can win with what they have and survive any setback if they work to cultivate the passion, purpose, and drive essential to success.
She shares doable steps to cultivate it for yourself as well as an authentic message on how to build your brand, build a network, and use your fears as fuel to keep going in P2D: Elements of a Growth Mindset, available December 6th on BarnesandNoble.com, and Amazon.com
###