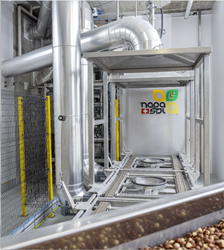 one of the major benefits of the "Roast Finish®" process is energy savings in the process of roasting nuts
ZUG, Switzerland (PRWEB) December 05, 2022
In Napasol lines, the nuts are loaded in two-thousand-pound bulk bins which move automatically from the preheating station to the pasteurizer, and onto the cooler. The "Roast Finish®" module is an optional addition placed between the pasteurizer and the cooler. Napasol CEO Dieter Kundig points out that "one of the major benefits of the "Roast Finish®" process is energy savings in the process of roasting nuts". The saturated steam applied in the pasteurizer evenly and rapidly heats the load to temperatures up to 120°C. When the bins then move onto the Roast Finish® module, reaching roasting temperatures of 130°C to 180°C is facilitated in the hot pasteurized load.
Napasol's customer Patiswiss, offers pasteurized raw nuts and a full range of roasted nuts for the confectionary and food industry. Their Roast Finish® unit has provided the company with much greater capacity than previously possible in their roasters. In addition to the roasting volumes, the energy consumption is reduced by half in the Roast Finish® process, a major advantage.
Because the roasting step is subsequent to a validated pasteurization step, air temperature and exposure times can be adjusted specifically for achieving targeted roasting color, flavor, and textures. More benefits include no mechanical damage and no waste as the nuts are contained in a bin. This also contributes to minimized down time for product changeover as the product is never in contact with the processing line, and bins can be cleaned offline while running the next product.
The Napasol "Roast Finish®" process delivers colors and flavors that meet the tight specifications required for ingredients used by customers in their formulations. Napasol customers can roast macadamias, pistachios, hazelnuts, and almond s for both retail and industrial applications. Products of all sizes from whole pieces to sliced, diced and nut meal can be processed on the Napasol line. Flavoring of roasted nuts is achieved by seasoning the raw nuts before loading the product in the bins and running them through the Napasol line.
Napasol AG, Zug, Switzerland, sells its Pasteurization technology, with applications for nuts, seeds, herbs, spices and other low moisture foods, worldwide. Market leader in the pasteurization of tree nuts, the addition of the "Roast Finish" module widens the scope of supply to meet the needs of the retail and industrial market for safe roasted and flavored nuts.
Patiswiss, Gunzgen, Switzerland, supplies nuts and chocolate to the confectionary and food industry for whom food safety is a requirement and pasteurization is necessary as a preventive control. The addition of the "Roast Finish" module has enabled Patiswiss to widen its product portfolio and supply a range of flavor and color profiles adapted to customer specific needs.