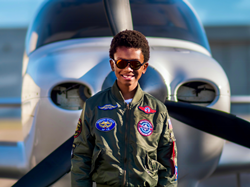 I am on a mission to raise $100,000 to help us remember the heroes of the attack on Pearl Harbor! We should never forget the American heroes who gave the ultimate sacrifice."
RALEIGH, N.C. (PRWEB) December 05, 2022
The way America honors its heroes is pitiful. It seems no one cares, or they've forgotten, especially young people. A 4th grader in North Carolina is on a mission to change this.
For 9-year-old Harrison Johnson, December 7, 1941, is a date that stands as a symbol of American grit and resilience. He is on a mission to make sure children his age recognize why this date is important in American history and always remember the heroes of the attack on Pearl Harbor that launched the United States into World War II.
While researching a class history project, Johnson was in awe as he read about the 2,403 American heroes who made the ultimate sacrifice during the attack on Pearl Harbor. He read books, listened to stories and even convinced his parents to take him to visit the Pearl Harbor Memorial, home of the USS Arizona. This visit brought history to life for Harrison; ultimately, leading him to step into a role of advocacy to preserve and protect the legacy of his heroes and this important and tragic piece of American history.
Upon his return home, Harrison announced that he was raising money to benefit the Pearl Harbor Memorial. "I am on a mission to raise $100,000 to help us remember the heroes of the attack on Pearl Harbor," Johnson said. "We should never forget the American heroes who gave the ultimate sacrifice."
This year, 9-year-old Harrison has partnered with local organizations and community groups to further this mission. You can often find him going door to door asking for donations for his cause and educating kids his age about the attacks - many of whom have never heard of before.
To date, Johnson has raised almost $20,000 toward this $100,000 goal. As the 81st anniversary of the attack on Pearl Harbor approaches, he would like everyone to take time to honor the fallen and consider donating to his worthy cause.
Donations can be made directly on Harrison's website – (http://www.pacifichistoricparks.org/harrisonsheroes). All contributions go directly to the Pacific Historic Parks, a 501(c)(3) non-profit organization, stewards of Pearl Harbor Memorial in Honolulu, Hawaii. Pacific Historic Parks is the non-profit cooperating association of the National Park Service in stewardship of Pearl Harbor. Its mission is to remember, honor and understand World War II in the Pacific.
For more information, please contact:
CJ Johnson: cjohnson1@alumni.duke.edu
Information and Donation Page: http://www.pacifichistoricparks.org/harrisonsheroes