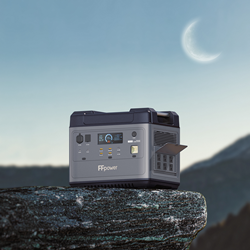 LOS ANGELES (PRWEB) December 13, 2022
This year USA has been hit by huge hurricanes in many places, and when hurricanes happen, our daily life will be affected. It must be mentioned here that people's respiratory tract has become more and more sensitive due to the destruction of the environment and the increasing dust in the air, and CPAP has become an indispensable household device for us. But if we suffer a hurricane power outage while sleeping, do we also have to face difficulties in breathing?
FFpower launched the first P2001 power station with UPS system this year, when it can automatically turn on the UPS system of 1100W in the mode of charging while using. In other words, when you are sleeping with CPAP/heart rate monitor and the home power is cut off, P2001 will respond within 10ms to automatically renew the power for your ventilator/heart rate monitor, so that the ventilator/heart rate monitor continues to work, which can be be a life-saving design.
This is not its only advantage, we all know that placing a generator indoors is actually a dangerous thing that can lead to fires, this is because most batteries are still using poor temperature resistance and unstable ternary lithium batteries. The FFpower P2001 uses a relatively stable lithium iron phosphate battery that will not explode in high temperature environments, which is one of the higher safety factor batteries in the industry. In terms of service life, it has 6 times more service life than the ternary lithium battery, up to 3000 cycles, and the battery can maintain 75% of the effective capacitance after 3000 cycles. This is a safer choice for machines that need to be placed for indoor use. The P2001 also takes into account over-current protection, over-voltage protection, overload protection, over-discharge protection, over-charge protection, over-temperature protection, and voltage equalization.
The FFpower P2001 has a large capacity of 2000WH to power the family, andFor an extremely fast experience, it has an 1100W AC input port that can take the P2001 from 0%-80% in 1.5 hours with the included charging cable. If you are well-equipped, using the AC wall plug and the solar panel to charge at the same time will take the P2001 from 0% to 80% in one hour. Yes, FFpower P2001 also has the option of charging with solar panels, built-in MPPT 500W solar charging power, automatic adjustment of the maximum charging speed, environmental protection and energy saving solar generator.
The LCD screen allows you to monitor the battery usage, not only the input but also the output load. Because the P2001 can power up to 16 electronic devices at once, because there are 2 DC outputs, 1 cigarette lighter port, 1 XT60 output, 6 AC outputs (sine wave), 4 USB outputs, and 2 PD 100W USB-C outputs, so your laptop, game console, cell phone, Switch, drone, heated blanket, air purifier, refrigerator and rice cooker can all be used simultaneously without interfering with each other.
How to balance the constant harshness of the environment with maintaining a good life is our challenge. If we cannot change the environment, we can prepare for the unexpected by choosing a safe, durable, and powerful home backup power source.