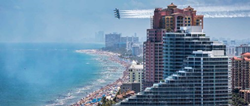 "The Air Dot Show Tour is a great reason to plan a trip to one of our world class destinations," said Bryan Lilley, CEO of Air Dot Show.
COCOA BEACH, Fla. (PRWEB) December 06, 2022
The 2023 Air Dot Show Tour will visit seven destinations from Florida to New York, it was announced today.
The Air Dot Show Tour is the nation's premier aviation event series. Every destination on the tour is held in a desirable place to travel, encouraging aviation enthusiasts from around the nation and the world to plan a getaway and experience an Air Dot Show event.
The 2023 tour will kick off in April at Cocoa Beach, Florida and host its season finale in October at Orlando. Tour dates include:
Cocoa Beach, Florida: April 15-16
Fort Lauderdale: April 29-30
Augusta, Georgia: May 13-14
Ocean City, Maryland: June 10-11
New York: June 24-25
Atlanta: October 7-8
Orlando: October 28-29
"The Air Dot Show Tour is a great reason to plan a trip to one of our world class destinations," said Bryan Lilley, CEO of Air Dot Show. "Whether you love the beach, the big city or a warm weather getaway to world class resorts and theme parks, we have a destination for you to experience the power, precision and patriotism of an Air Dot Show event."
The 2023 tour will host well known U.S. military demonstration teams like the Air Force Thunderbirds and the Navy Blue Angels as well as aircraft demonstrations from multiple branches of the military and a variety of civilian aircraft. Headline acts for each destination have just been announced on the tour website https://air.show
"We're looking forward to an exciting 2023 tour and visiting these world class destinations," added Lilley. "Fans should keep checking the website as we will be adding to the performer lineups for each venue continuously in the months leading up to our visit to each destination."
###