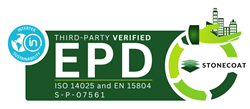 "So many talk about what they are doing to address climate initiatives, but most are just greenwashing as they say, but at StoneCoat, our products are truly green, and we are here to make it known."- Joseph Mrak, CEO
DALLAS (PRWEB) December 07, 2022
StoneCoat is excited to announce its final Environmental Product Declarations (EPD) for its patented StoneCoat Smooth and Carve products certified by Intertek Sustainability. The report is a complete cradle-to-grave analysis done on the product set. The full cradle-to-grave carbon emission is 162.5 kg per ton of manufactured and installed product. This is up to a 90% improvement over traditional Portland-based manufactured veneers, and StoneCoat is viewed as a first mover in the advancement for carbon neutral building materials and veneer systems.
EPDs were developed to encourage the use of products and materials for which life-cycle information is available and have environmentally, economically, and socially preferable life-cycle impacts. The goal is to reward project teams for selecting products from manufacturers who have verified improved environmental life-cycle impacts. Architects have an approach published by the USGBC to achieve LEED certifications for buildings by utilizing permanently installed products that have an EPD.
Portland-based cement, the main ingredient, is responsible for around 8% of global emissions. The 30 billion tons of concrete that the world makes annually have a massive carbon footprint. Reducing the carbon emission of cementitious exterior veneers will significantly impact this footprint. The StoneCoat application process reduces labor time and cost and saves overall project costs.
"This is a huge step forward for the industry," states StoneCoat CEO Joseph Mrak. "So many talk about what they are doing to address climate initiatives, but most are just greenwashing as they say, but at StoneCoat, our products are truly green, and we are here to make it known – our Environmental Product Declaration (EPD) is a detailed account of how our product truly reduces carbon emissions against our competition up to 90% - I challenge others in the building materials industry to make such a claim and prove it."
A stucco, brick and manufactured stone replacement are only helpful if it adequately performs the same function as the traditional material it replaces. Fortunately for builders and contractors, StoneCoat has many other advantages over traditional cementitious veneers besides its environmental credentials. In contrast to traditional stucco, which requires a minimum 48-hour drying period, StoneCoat products dry overnight. StoneCoat continues to cure and harden for up to a year and absorbs carbon dioxide. It also doesn't require any maintenance during this period, unlike its alternatives, which may require periodic misting as it cures.
Another advantage of StoneCoat is its relatively high pH level, which makes it much less susceptible to mold and cracking. It also gives 100% UV protection and is carbon negative during curing, absorbing carbon dioxide as it dries out. As long as there's adequate preparation, StoneCoat products can be used on almost any surface. Adhesion to cementitious surfaces such as brick or concrete requires no additional bonding agent, providing a substantial cost saving over stucco and manufactured stone for the same look. All StoneCoat products have been tested to meet International Code Council Evaluation Services (ICC-ES) AC11 cementitious building material international standards.
​​"Our team is committed to developing disruptive building materials that meet the industry gold standard in their respective category, and remain cost competitive. StoneCoat next generation stucco and stone products have been our entry point, and represent only the first phase of our product road map. Expect more innovation from our team in the coming months," says Conor Butts, COO at StoneCoat.
StoneCoat's innovative, green product offerings provide a cost-effective alternative to traditional stucco, brick, and manufactured stone. In an industry that's usually very conservative, they provide an alternative that even the most hidebound construction professional can get behind.