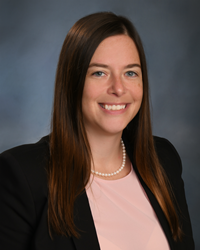 "As someone who has worked both with and opposite Lindsay, I can attest to the fact that she is a force to be reckoned with. Brilliant, committed, creative, and a gifted orator—Lindsay is everything one could hope for in an advocate."
FREDERICKSBURG, Va. (PRWEB) December 07, 2022
Livesay & Myers, P.C. proudly announces the promotion of attorney Lindsay Connolly to the position of Lead Senior Associate at the firm.
"As someone who has worked both with and opposite Lindsay, I can attest to the fact that she is a force to be reckoned with," said Ariel Baniowski, a partner at the firm. "Brilliant, committed, creative, and a gifted orator—Lindsay is everything one could hope for in an advocate."
Ms. Connolly joined Livesay & Myers, P.C. as an Associate Attorney in 2019. She was promoted to the position of Senior Associate Attorney later that year.
Ms. Connolly quickly established herself as among the leading family lawyers in the firm. She has built a long track record of achieving excellent results for her clients, who have rewarded her with a large number of five-star reviews and testimonials online.
Ms. Connolly was included in the 2021 edition of Best Lawyers: Ones to Watch for her work in Family Law. She currently holds a perfect 10.0 rating from Justia.
Originally from Milford, Massachusetts, Ms. Connolly graduated magna cum laude from Salve Regina University in Newport, Rhode Island. She then earned her law degree from David A. Clarke Law School in Washington, D.C., graduating summa cum laude and the top female in her class.
After graduating from law school, Ms. Connolly practiced family law at a firm in Fredericksburg from 2011 until 2019 before joining Livesay & Myers, P.C.
Ms. Connolly works in the firm's office in Fredericksburg, and represents clients in Fredericksburg, Stafford and Spotsylvania. She resides in Fredericksburg.
About Livesay & Myers, P.C.
Livesay & Myers, P.C. is an award-winning family law firm with offices in Fredericksburg, Fairfax, Manassas, Ashburn and Arlington, Virginia. The firm was founded in 2003 by partners James Livesay and Kevin Myers. By 2016, the firm had made the annual Virginia Lawyers Weekly list of Virginia's Largest Law Firms, debuting at #64 (and moving up to #46 by the 2022 edition). Livesay & Myers, P.C. appears in the 2018–2023 Editions of the U.S. News - Best Lawyers listing of Best Law Firms. By the 2022 Edition, the firm had moved into Tier 1—the highest ranking available—in Family Law for the Washington, D.C. region.