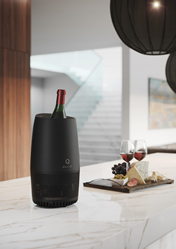 QelviQ takes the guesswork out of what temperature your wine should be, so you have the perfect way to enjoy wine anytime, anywhere.
NEW YORK (PRWEB) December 07, 2022
QelviQ has announced the launch of QelviQ® Your Personal Sommelier, the innovative smart technology that elevates the wine-drinking experience for everyone, with every single sip. The ideal serving temperature for wine varies by type, and experts say that getting the serving temperature right has a singular influence on the wine's taste.
The QelviQ app is at the heart of the QelviQ system, connecting a growing database of 350,000+ wines with a smart thermodynamic device that brings wine to the correct temperature and maintains it over time. Trending during the holidays and beyond, the QelviQ technology is answering the consumer demand for higher quality wine experiences.
"QelviQ, Your Personal Sommelier is the first and only device and app of its kind, designed to help everyone have the best wine experience possible, whether they are connoisseurs, enthusiasts or wine lovers," said QelviQ founder and CEO Xavier Verellen. "We're making the expertise of experienced sommeliers and the ability to act on that expertise with a smart portable temperature control device easily accessible for consumers. Wine is liquid art – we should enjoy it as it was meant to be enjoyed by the artisan winemakers who have put their heart and soul into their craft."
The QelviQ system brings the vineyard taste to your home or restaurant. By ensuring each individual wine is served at the proper temperature, both novices and wine connoisseurs can enjoy all the richness and flavors that a given glass of wine has to offer.
"More than 99% of wines are served at the wrong temperature. As wine lovers ourselves, we wanted to solve the problem of the ideal serving temperature," said co-founder and CMO Helena Verellen. "After eight years of research, including 315 test prototypes, 36 product iterations and four live production batches, we achieved it. QelviQ takes the guesswork out of what temperature your wine should be, so you have the perfect way to enjoy wine anytime, anywhere."
The QelviQ app is downloadable from all app stores and runs on Android and iOS smartphones. It connects via Bluetooth and Wi-Fi to the smart wine cooler, which at 10 pounds and 7.5 inches in diameter, is highly portable. Three high-performing thermal sensors guarantee that wine will be delivered to within one degree Fahrenheit of the ideal temperature.
"Whether you're enjoying a light white or a full-bodied red this holiday, with QelviQ you can be confident that your wine will be brought to perfection," says Helena Verellen. "The app also keeps track of your wine inventory, so you always know what you have on hand. It also provides ideal wine-food pairing options, and answers any wine related questions you have. QelviQ ensures your wine experience is always the best."
About QelviQ
Our mission is to build an ecosystem of sommelier services to serve a growing community of wine enthusiasts that will enhance their experience of the world's most divine drink with the help of state-of-the-art technology. The QelviQ Personal Sommelier is a beautifully designed portable temperature control device that brings every type of wine to its ideal serving temperature. When paired with the QelviQ app, it delivers the ultimate wine experience. When the highly advanced QelviQ hardware and software are connected, a system using state-of-the-art, internet-of-things technology is set in place for solving the last mile of a wine's journey, every time. Read more about the mistakes made with wines here! To learn more about the QelviQ device or app, visit our website at qelviq.com.