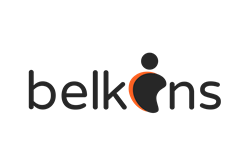 DOVER, Del. (PRWEB) December 08, 2022
Belkins is an international B2B appointment-setting and sales acquisition agency headquartered in Dover, DE. Since 2017, the company has evolved from a startup into a global leader in B2B marketing and an ecosystem of MarTech products, with no outside investments. Belkins is now among 241 socially responsible businesses that significantly impact their communities and industries, putting purpose ahead of profit.
Belkins team disrupted the lead generation industry by leveraging a performance-based approach and is striving to lead other industries by their example. With their advanced process of KPI setting, performance measurement, and data utilization, Belkins has achieved the highest industry performance indicators: 70% in email outreach open rate, 20% in reply rate, 15% closing rate, and 10:1 ROI from the email channel.
The company also invests an income share into environmental projects. Since October 2020, Belkins has donated 1% of their product income to the Climate Contribution Program.
"Since its first day, Belkins's mission was to elevate businesses' potential," — says Vladislav Podolyako, the company's founder and CEO. "We help companies grow and grow ourselves, setting the highest standards for customer service and performance. Sure, delivering the highest ROI in the industry brings us over the moon. But we never measure our success in numbers only. Our partners' satisfaction and our progress as professionals are the most important benchmarks."
Rather than relying on quantitative criteria tied to sales or funding, Inc.'s editors reviewed the companies' achievements over the past year and noted how they made a positive difference in the world. They then selected honorees in 55 different industries – from advertising to retail – and in age-based, revenue-based, size-based, and impact-based categories. The applicant pool was extremely competitive – a huge success for the 241 honored in the list's third year.
Scott Omelianuk, editor-in-chief of Inc., says, "Inc. magazine is dedicated to showcasing America's most dynamic businesses and the great things they do. The Best in Business awards shine a light on those that have gone above and beyond their original mission to make a social, environmental or economic impact, benefiting those around them."
ABOUT BELKINS
Belkins is a B2B lead generation and appointment-setting agency headquartered in Dover, DE, USA. It was founded in 2017 by Vladyslav Podolyako and Michael Maximoff. The company provides appointment-setting services focused on acquiring new leads via email marketing channels. Its clients come from 50+ industries worldwide, mainly in the USA and Europe.
Belkins helps businesses grow through technology and innovative marketing and sales solutions in two business directions: service offering and product development.
ABOUT INC.
The world's most trusted business-media brand, Inc. offers entrepreneurs the knowledge, tools,
connections, and community they need to build great companies. Its award-winning multiplatform content reaches over 50 million people each month across various channels, including websites, newsletters, social media, podcasts, and print. Its prestigious Inc. 5000 list, produced yearly since 1982, analyzes company data to recognize the fastest-growing privately held businesses in the United States. The global recognition that comes with inclusion in the 5000 gives the founders of the best businesses an opportunity to engage with an exclusive community of their peers and the credibility that helps them drive sales and recruit talent. The associated Inc. 5000 Conference is part of a highly acclaimed portfolio of bespoke events produced by Inc. For more information, visit http://www.inc.com.