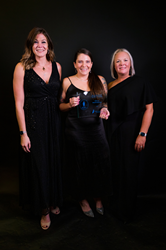 "The successful launch of our new website is the product of countless hours of collaboration between HILLS Properties and Go Local. It's an honor to be recognized at an event as respected and prestigious as the Midwest Multifamily Conference. I could not be more proud of our team."
OVERLAND PARK, Kan. (PRWEB) December 08, 2022
HILLS Properties has won the "Best Website—Corporate" Award from the Midwest Multifamily Conference that took place on October 11 and 12. This conference is the largest industry conference that caters exclusively to Midwest multifamily professionals, bringing together over 900 professionals over the course of two days. This year, the conference took place at the Indiana Convention Center in Indianapolis, featuring 11 speakers covering key topics, including burnout and stress management, to provide professionals with new perspectives and ideas.
In addition to over 30 education sessions, an awards ceremony is also hosted on the second day of the conference. HILLS Properties was awarded "Best Website—Corporate" for 2022, one of the Prodigy Awards from the MMC. This website was developed and is managed by Go Local Interactive, marketing partner of HILLS Properties.
"The successful launch of our new website is the product of countless hours of collaboration between HILLS Properties and Go Local. It's an honor to be recognized at an event as respected and prestigious as the Midwest Multifamily Conference. I could not be more proud of our team at HILLS Properties and what has become an extension of our team at Go Local," said Justin Seger, Vice President at HILLS Properties.
Go Local Interactive has been involved in the multifamily industry for over a decade, "but this new website offers our first opportunity to demonstrate the custom, centralized website capabilities we have delivered to other industries for years," said Go Local co-founder John Jordan. "Go Local was particularly suited for this project because of our experience with rapidly scaling businesses and centralization of websites and overall digital marketing."
HILLS Properties has been a partner with Go Local Interactive since November 2021, and according to Jordan, "has proven to be the perfect partner, as they have been very collaborative and innovative in their feedback, extremely open to new concepts, goal-oriented, and data-driven. We could not be more excited about our partnership with HILLS Properties and the next phase of the centralized website and digital marketing road map we have developed with them."
About Go Local Interactive:
Go Local Interactive is a digital marketing agency focused on new customer acquisition for national and regional brands. They provide customized solutions to answer the marketing needs of clients across a variety of industries including pest control, self storage, and multifamily. They are experts in effectively implementing, managing, and tracking clients' marketing efforts down to the local level—no matter the number of locations or size of the service area. Go Local specializes in website development, search engine optimization, local listing management, content, and advertising services that provide added value for their clients.
About HILLS Properties:
At HILLS Properties we develop, build, manage, and maintain luxury apartment communities across Ohio, Indiana and Kentucky. Headquartered in Cincinnati, Ohio, our leadership possesses a vision of unparalleled service that is rooted deep in our history, dating back to 1958. Through our visionary founder, Murray Guttman to our 3rd generation leadership team, HILLS has and continues to prove excellence in providing the best product and services in our communities.