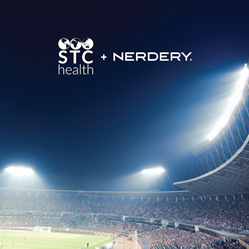 Qatar is now equipped with a best-in-class system, which is the same application that the state of Arizona used to get through the COVID pandemic.
PHOENIX (PRWEB) December 08, 2022
Nerdery, a premier digital product consultancy, partnered with Scientific Technologies Corporation (STChealth) to internationalize STChealth's market-leading Immunization Information System solution for the Qatari Public Health Department to deploy ahead of the world's largest soccer tournament this year.
The Immunization Information System solution, which ensures immunizations and disease cases are monitored and managed leading up to and throughout the three weeks of the tournament, was implemented in Qatar in 2019 as part of the preparations in hosting the worldwide event. Qatar's Surveillance and Vaccine Electronic System, SAVES, today contains nearly 3.3 million patient records with at least two or more vaccinations, allowing the Ministry of Health to monitor and respond to public health emergencies.
Nerdery partnered with STChealth to optimize its existing SaaS application, making it more intuitive to use and cloud-based. Nerdery's efforts also focused on back-end stabilization of the application, a critical need that meant transforming the North American-centric app into an international product.
"We were thrilled to support STChealth with this optimization," said Meghan Stiling, Chief Digital & Operating Officer for Nerdery. "Qatar is now equipped with a best-in-class system, which is the same application that the state of Arizona used to get through the COVID pandemic."
"We appreciate our partnership with both Nerdery in delivering this premiere vaccine registry platform to the people of Qatar and all of the fans attending the world's largest soccer tournament.," said Kristina Crane, Chief Strategy Officer for STChealth. "This is a great example of two Arizona companies providing world-class solutions to the international community."
To learn more about Nerdery, please visit https://www.nerdery.com/.
ABOUT NERDERY
Nerdery is a premier digital product consultancy with depth of experience in strategy, design, technology and engineering, helping clients across a range of industries become fully digital. Nerdery works to transform companies' digital capabilities by designing and developing digital products and programs that connect them with their customers to outperform their competition in today's digital world. Much more than consultants, they are allies for the digital transformation journey — a collection of strategists, designers, technologists and proud "Nerds," who are united around a vision of relentlessly inventing a world that works better for all. Nerdery was founded in 2003 and has offices in Minneapolis, Chicago and Phoenix. Find out more at nerdery.com.
ABOUT STCHEALTH
STChealth's mission is to eradicate vaccine preventable disease and empower individuals through our innovative technology and service solutions. We deliver on our mission through passion and innovation, through teamwork and inclusion, through superior client service and products, and a relentless pursuit of the next "big idea"​ that will advance Vaccine IntelligenceTM. Starting with developing the first Immunization Information System (IIS) and over 34 years of experience in the immunization ecosystem, STChealth is positioned today to support more than 1/3 of all vaccinations reported in the U.S. through our network of over 75,000 Providers and Pharmacy Partners. More information can be found at STChealth.com.
###