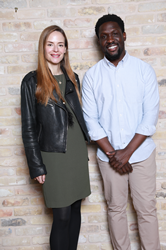 "We're thrilled to be on Fast Company's list of cutting edge tech breakthroughs!"
Philadelphia, PA (PRWEB) December 13, 2022
NICKLpass Named to Fast Company's Second Annual List of the Next Big Things in Tech
List Recognizes Tech Breakthroughs Across Industries That Promise to Transform the Future
Philadelphia, PA, December 13, 2022 — NICKLpass today announced that it has been named to Fast Company's second annual Next Big Things in Tech list, honoring technology breakthroughs that promise to shape the future of industries—from agriculture and environment to productivity and artificial intelligence.
This year, 83 technologies developed by established companies, startups or research teams are highlighted for their cutting-edge advancements and potential to impact consumers, businesses and society overall. While not all of the technological developments are available in the market yet, each one is reaching key milestones in order to have a proven impact in the next five years. Fast Company also recognized 41 honorable mentions.
"We're thrilled to be on Fast Company's list of cutting edge tech breakthroughs," said Sumorwuo Zaza, co-founder of NICKLpass. "At NICKLpass our goal is to bring quality news to more people in the age of disinformation, and our patented technology makes accessing that news faster, easier, and more affordable."
Sumorwuo Zaza and Allison Paz founded NICKLpass, a B2B tech platform that offers the ability to access paywalled content without multiple individual logins. The company is backed by Comcast Ventures and participated in the Comcast TechStars NBCUniversal LIFT Labs Accelerator, has raised more than $5M and secured partnerships with more than 200 media outlets around the world, including CNBC, Bloomberg, Los Angeles Times, and TechCrunch, among others.
"Technology breakthroughs and cutting-edge advancements promise to be the solution to some of the world's most pressing issues. Fast Company is excited to highlight some of the organizations, of all sizes and industry backgrounds, whose technology advancements today will lead to a better tomorrow," says Brendan Vaughan, editor-in-chief of Fast Company.
Click here to see the final list.
The Winter 2022/2023 issue of Fast Company is available online now.
About NICKLpass
NICKLpass is a new media technology platform that provides enterprise clients with a single login and single payment, allowing access to 200+ publications. Find out how you can access more news with less subscriptions at NICKLpass.com.
About Fast Company
Fast Company is the only media brand fully dedicated to the vital intersection of business, innovation, and design, engaging the most influential leaders, companies, and thinkers on the future of business. The editor-in-chief is Brendan Vaughan. Headquartered in New York City, Fast Company is published by Mansueto Ventures LLC, along with our sister publication, Inc., and can be found online at fastcompany.com.