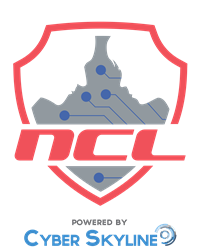 "NCL is instrumental in helping students prepare for a career in cybersecurity by providing guidance and support to build the fundamental skills needed and also connecting students with industry experts in the field." - Monica Ipong, Director, Global University Recruiting of CrowdStrike
CHEVY CHASE, Md. (PRWEB) December 12, 2022
The National Cyber League concluded the Fall 2022 Competition to include three top collegiate teams and one top high school team for the Cyber Power Rankings. These four exemplary institutions represent the states of Florida, Maryland, California and Ohio.
The NCL Competition, powered by Cyber Skyline, is a biannual event that enables students to prepare and test themselves against practical cybersecurity challenges that they will likely face in the workforce, such as identifying hackers from forensic data, pentesting and auditing vulnerable websites, recovering from ransomware attacks and additional cyber skill sets.
The Cyber Power Rankings is a published list of the top 100 schools within the NCL, representing the hard work and accuracy of collegiate and high school teams. These rankings measure students' abilities to work individually and as a team in performing a wide range of cybersecurity tasks.

Florida Institute of Technology reigned supreme, coming in first place with 100% accuracy and 2,755 points out of 3,000 total points.
Second place collegiate team from SANS Technology Institute demonstrated 94.40% accuracy with a total of 2,750 points.
Third place collegiate team representing City College of San Francisco achieved 2,685 points with 93.44% accuracy.
First place high school, Lakota East High School, led the high school division with 1,715 points with 67.20% accuracy.
View the entire Power Rankings list here: https://cyberskyline.com/data/power-ranking/fall-2022-national
The Fall 2022 Competition included 7,500 students from 470 high schools, colleges and universities participating from all over the United States, representing all 50 states. Students that participate in the NCL receive valuable support through individualized Scouting Reports that align their experience to industry certifications and government standards.
Coach TJ O'Connor from Florida Institute of Technology has been a coach for the NCL Competition for multiple seasons, with this being his second year coaching a top team. "Everyone wants a chance to learn how much their hard work has paid off: the NCL allows students to compare their progress against their peers on a national stage," said O'Connor.
NCL Commissioner, Dr. David Zeichick, is also a coach for the NCL who utilizes the competition challenges to complement his lecture material. "Giving students time to apply what they learn reinforces lecture material. The NCL Competition provides countless hours of ready-to-use, hands-on cybersecurity activities. My students have commented on how indispensable the NCL is in providing engaging challenges that allow them to do a deep dive into many cyber security categories," said Zeichick.
The impact and success of the NCL can best be attributed to the support from our sponsors that students receive. Company sponsors provide resources and direct hire opportunities for our students, bridging the gap between player and career seeker. "NCL is instrumental in helping students prepare for a career in cybersecurity by providing guidance and support to build the fundamental skills needed and also connecting students with industry experts in the field. This allows students to learn about all of the fascinating types of roles available and advice on how to create a path to enter," said Monica Ipong, Director, Global University Recruiting of CrowdStrike.
"Employers are looking to hire candidates that can demonstrate they have the skills for the job. That can be difficult for students or recent graduates, especially those without past work experience. The NCL gives students real-world cybersecurity exercises that represent the work that professionals do on a daily basis, so they are equipped to demonstrate their skills to an employer," said Franz Payer, CEO of Cyber Skyline. "When they go to an interview and are asked, 'Do you know how to identify a hacker using log files?' they can say, 'Yes, and let me tell you how I did that during NCL.' That experience becomes invaluable when applying for jobs."
Registration for the Spring 2023 NCL Competition begins January 30 to March 17. The regular cost to participate is $35, with late registration from March 18 to March 21 and a cost increase to $45.
About the National Cyber League
Established in 2011 by an alliance of public agencies dedicated to developing the next generation of cybersecurity professionals, the National Cyber League is a 501(c)(3) non-profit organization aiming to help students develop, practice and validate their cybersecurity knowledge and skills. To learn more, visit nationalcyberleague.org.
About Cyber Skyline
Founded in 2014, Cyber Skyline is a leading cloud-based cybersecurity skills evaluation platform helping students & professionals track their skills growth and helping businesses find, identify and cultivate talent. Cyber Skyline operates the NCL Competition with the support of the National Cyber League. To learn more, visit cyberskyline.com.