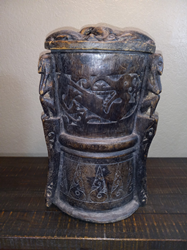 "We have seen Survivor collecting become its own genre, much like items related to Star Wars, Star Trek, and other iconic franchises", Eric Gazin said.
LOS ANGELES (PRWEB) December 13, 2022
Iconic television shows transcend beyond fandom and fads of the moment, reaching a broader awareness amongst followers of history and pop culture. Twenty-two years after the premiere of Survivor, it is now widely accepted that this show has become one of the largest phenomena in the history of network broadcasting.
For the first time ever, three important pieces that played key roles in telling the story of season one in Borneo are being made available by a private collector.
A little history first. On May 31st, 2000, CBS Television premiered what would go on to become the most influential show in reality television history – Survivor. Forty-three seasons later, the show is still resonating with millions of fans worldwide, with multiple generations connecting through the shared love of the show they cannot stop watching.
After airing its wildly successful second season in early 2001, Survivor – The Australian Outback, CBS began a now long-standing tradition of donating game-used props from the season to be auctioned, with the proceeds going to charity. Many Survivor fans have been able to purchase a piece of the show's history via those auctions, which have been run by Auction Cause, a premiere online management agency utilized by brands, celebrities, and nonprofits, who have been managing the sale and providing provenance for auction bidders since 2008 on eBay For Charity.
When the first season of Survivor wrapped up production in Borneo in 2000, there was not any anticipation of the wild success that was to come. No Borneo props were donated by CBS for an auction, and many of the now iconic items such as torches and flags, never left the island and are assumed lost forever. Fortunately, some items did make it back to Los Angeles where they sat in a warehouse while the show's fame and success grew.
In late 2004, after Survivor's 9th season, Vanuatu – Islands of Fire, one early collector had the good fortune of being offered the opportunity to purchase a large assortment of Survivor props that had been accumulated over those early seasons. The Borneo items being sold now all come from that original group of props that were initially obtained by people affiliated with the show.
The first item available for purchase is the Borneo voting urn. This was the prop that all Survivor fans became accustomed to seeing in each episode as contestants cast their votes and Jeff Probst revealed who was voted off the island. In fact, the phrase "voted off the island" owes its beginnings to this voting urn. Included with the urn are the final 7 votes that were cast during the Borneo finale, 4 for Richard Hatch and 3 for Kelly Wiglesworth, making Richard the first ever winner of Survivor.
As is customary for Survivor, local artisans were called upon to assist in the design and artwork of the urn and its fine craftsmanship is evident.
The second item is the Borneo immunity necklace, also called the "talisman" in early seasons. For those contestants reaching the individual portion of the game nothing was more coveted or powerful than the immunity necklace, ensuring that they couldn't be voted out at the next tribal council. This immunity necklace was worn by Kelly after winning her 4th consecutive immunity challenge (still a record to this day!) at the final 3 challenge with Richard and Rudy, ensuring her place at the final tribal council.
The final piece is the Tagi tribe camp flag. This flag is pictured in the early scenes of the first episode of Borneo where Tagi tribe members planted on their beach the first flag ever shown on Survivor. Tribal flags have become a staple on each season with fans identifying their favorite tribes with the colors on the associated flags. The Tagi tribe formed the first Survivor voting alliance which has become a key strategy for playing the game to this day. This original flag is the only known flag from the Borneo season still in existence
Eric Gazin of Auction Cause is privately managing this sale. "We have seen Survivor collecting become its own genre, much like items related to Star Wars, Star Trek, and other iconic franchises," Gazin said. "With inflation at a forty year high, people are looking to invest in tangible assets, such as art and collectibles, especially from well established franchises," he added.
"This collection comes from a collector who has been buying props directly from us for fourteen years. I have personal knowledge as to the source of the early Borneo pieces and have done extensive due diligence to establish their authentic provenance."
This is a unique opportunity to own a piece of not just Survivor, but television history. Few pieces of memorabilia are as instantly recognizable and represent the origin of what has now become the most successful show of its genre. These pieces are so iconic that the Smithsonian Institute has made inquiry as to their availability for these props to be loaned for display.
A portion of the proceeds from the sale will be donated to Stand Up 2 Cancer, a disease which has touched many in the Survivor and collector community.
To see all three of these pieces available for purchase, please visit http://www.survivorsale.com. Upon completion of the sale, many more iconic props from Survivor will be available for purchase.
For media inquiries, please contact eric@cavve.us or call (424) 261-0284.