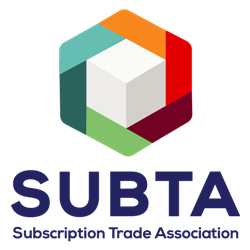 "To combat inflation and economic uncertainty, we're excited to lean in and continue offering direct-to-consumer businesses support through exclusive networking events and unparalleled learning opportunities." - Paul Chambers - CEO and co-founder of SUBTA and SubSummit
DETROIT (PRWEB) December 13, 2022
Today, SUBTA, the first and only trade association serving the subscription commerce economy, released key trends and predictions for 2023, shedding light on what brands can expect and what they should prepare for. Ahead of the new year and SubSummit 2023, the world's largest direct-to-consumer subscription conference, these emerging trends and predictions serve as guiding posts for brands to nurture their customer bases effectively while lowering their customer acquisition costs in the midst of the "great unsubscribe" era.
"For better or for worse, the subscription industry has experienced game-changing shifts in 2022 with more disruptive ups and downs to come in 2023," said Paul Chambers, CEO and co-founder of SUBTA and SubSummit. "To combat inflation and economic uncertainty, we're excited to lean in and continue offering direct-to-consumer businesses support through exclusive networking events and unparalleled learning opportunities."
The 2023 findings are based on feedback from the SUBTA community and its executive leadership team:
2023 Emerging Trends and Predictions:

Subscribe and Save: As consumers become more budget-conscious, implementing cost-savings programs such as Subscribe and Save, and better communicating the full value will help subscription businesses build trust and foster customer loyalty in 2023 and beyond.
Wants vs. Needs: As consumers continue to be more aware of luxury purchases due to inflation, subscription companies that are providing needs over wants partnered with personalization will continue to grow, retain customers and succeed. On the other hand, businesses that sell items deemed less "practical" will need to refine their value proposition to help consumers justify purchasing from them. In a recent survey conducted in partnership with Attest, SUBTA found that shoppers are primarily looking for practical gifts this holiday season. SUBTA anticipates brands incorporating additional benefits like year-round free shipping or small bonus gifts to reinforce value proposition and differentiators to customers.
Strategic Acquisitions: SUBTA predicts Amazon will acquire Peloton as well as possibly a streaming service to ironclad its foothold in the subscription space.
Brand Bundles and Partnerships: Bundle offers and brand partnerships will likely skyrocket. These types of tactics offer a cost-effective yet powerful way for brands to attract new customers across like-minded platforms and brands. Household organizations such as Disney+, T-Mobile and Walmart+ are already executing these types of bundling strategies.
The Rise in Demand of BNPL: Buy Now, Pay Later (BNPL) solutions have been gaining traction over the years, expanding online traditional shopping and increasing the purchasing opportunities for consumers globally. Coming off of 2022 Cyber Week, demand for BNPL options rose over 78%, identifying a need within the consumer market. BNPL offers a lifeline for consumers impacted by inflation and the pandemic to maintain their purchasing abilities while staying within their financial means. A large increase in these services for consumers in 2023 is predicted.
Feedback, Metrics and Analytics: While churn rates need to be closely monitored, brands should emphasize and leverage their resubscribe metric — the percentage of customers who canceled in the past but have since become active users again. Resubscribes can explain customer behavior trends, product value, and so much more. Nurturing relationships established with former subscribers can be beneficial at crucial times for subscription businesses, like the holiday season, new product launches, etc. Lastly, with third-party data limitations following Apple's iOS update, brands should strive to engage with their communities to gather genuine and constructive feedback.
"We are experiencing a dynamic shift as it relates to consumer purchasing behavior – the onset of market instability has created more budget-conscious consumers opening the door for companies to introduce more innovative consumer loyalty campaigns,'' said Christopher George, Chairman and co-founder of SUBTA and SubSummit. "From win-back campaigns to value-centric promotions, there are endless opportunities for subscriptions to succeed in a climate like this. However, to come out on top, brands need to focus on three main components: convenience, access and value. This is an incredibly exciting and motivating time for brands willing to shift, improve and modernize their business models."
For more information about SUBTA, visit SUBTA.com. For more information on SubSummit, visit SubSummit.com. Tickets to SubSummit 2023 are now available and can be purchased at SubSummit.com/get-tickets. To become a sponsor, visit SubSummit.com/sponsors/application. For questions or comments, email letstalk@subta.com.
###
About SubSummit
SubSummit is the world's largest conference dedicated to direct-to-consumer subscriptions. With over 2,000+ attendees, 100+ speakers and 100+ suppliers, SubSummit is hailed as one of the Top 40 E-Commerce Trade Shows of 2023 by etailinsights. The annual conference brings industry leaders and business owners together to build long-lasting, beneficial relationships through networking, workshops, and business strategy discussions. For more information, visit SubSummit.com.
About SUBTA
The Subscription Trade Association (SUBTA) is the first and only trade association serving the subscription commerce economy. SUBTA offers expert resources and support for the ever-growing community of innovators, entrepreneurs, thought leaders and dedicated teams that are eager to scale their businesses and catalyze the subscription industry. Based in Troy, Mich., SUBTA's mission is to provide a comprehensive and reputable library of news, knowledge, and resources. For more information, including industry research and upcoming events, visit SUBTA.com.