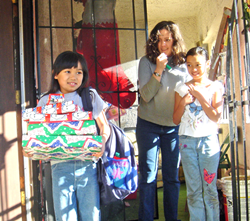 Some Operation Santa volunteers feel alone and sad over the holidays, and find comfort and inspiration volunteering for this program. It's micro-philanthropy, direct from each volunteer to a child. People catch the true spirit of the holidays and put smiles on the faces of needy kids on Christmas.
LOS ANGELES (PRWEB) December 12, 2022
Some children's letters to Santa ask for only for new shoes, a backpack for school, or Christmas dinner. Others are written by Moms whose kids are still too little to write. Letters from parents are often cries for help, saying they lost their jobs, have health or other life challenges, and have no money to buy their kids gifts for Christmas. They often list their kids' ages and clothing sizes and enclose their kids' letters in the same envelope.
The saddest letters to Santa have been made available for adoption by the public by the USPS® every year since 1912. In 2020, the traditional walk-in program ceased, and the program went online.
Only a few days remain to adopt a letter to Santa at USPSoperationSanta.com®. The site will close for letter adoption on December 19th. Gifts to kids must be mailed by the 19th to be delivered in time for Christmas, but may be mailed through December and still get delivered.
It's micro-philanthropy, direct from each volunteer to a child, with no charity involved. Volunteers may mail their gifts directly to the child or family who wrote the letter they adopted.
Some people feel alone and sad over Christmas, and find comfort and inspiration volunteering for this program. Volunteers catch the true spirit of the holidays, knowing they'll put smiles on the faces of underprivileged kids on Christmas morning.
In November postal workers began screening thousands of letters to Santa, looking for ones from children and families in need. When they find letters that asking for basic necessities, postal elves upload them to the site. Those writing letters hoping for gifts must mail them by December 12 to be considered for the website.
Kids who learn about the USPS program will be happy to know there are volunteers out there who want to send extra gifts to kids whose families are struggling financially. They should know that the postal elves always put every child's letter right back in the mail to the North Pole, and Santa will deliver his gifts to them, too.
Be An Elf is a tax-exempt Christmas charity that offers an excellent online guide to the USPS program, with plenty of helpful tips for new volunteers. The group also adopts letters from the site, and uses tax-deductible donations from the public to send gifts to families.
Thanks to a major in-kind grant from Google for free advertising, Be An Elf generates tremendous public awareness of the USPS Operation Santa® program every year, and has recruited thousands of volunteers who have sent gifts to kids.
There is also a page at the site for companies who wish to offer employees the option to join small teams and adopt a family for Christmas.
Christmas volunteers catch the true spirit of the holidays, and put smiles on children's faces come Christmas morning. For an excellent guide to the USPS Operation Santa program, visit BeAnElf.org.