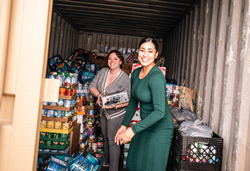 CHESTER, Pa. (PRWEB) December 13, 2022
Power Home Remodeling ("Power"), a Fortune 100 Best Company to Work For, donated over 366,000 goods ranging from food to personal care items and provided over 1,200 volunteer hours to deserving non-profits across the country for their annual Power of Giving initiative. This year's monumental donation is a 384% increase compared to 2021.
Spearheaded by Power's Cultural Diversity and Inclusion Initiative (CD&I) every November, the philanthropic initiative mobilizes employees to share their prosperity with underserved communities in their respective city through donating various goods and providing volunteer time throughout the holiday season. In its sixth year, employees collected more goods and volunteered more hours than any other year.
Each one of Power's 18 regional offices is allowed to select a non-profit of their choice to benefit from the drive — one that aligns with Power's values, or even one that has once served a fellow Power employee during a difficult time in their life.
"At Power, our corporate social responsibility is not just about signing a check," said Olumidé Cole, Power's National Director of Cultural Diversity & Inclusion. "Through Power of Giving, we're able to drive more meaningful and localized social impact in the communities. The success of this program is a testament to the goodwill and compassion of every single one of our employees."
In an effort to expand their impact, Power decided to up the ante for the annual give-back program. The territory that earned the most points through items collected and volunteer hours tallied, received $10,000 to donate to their partner non-profit.
Power's Chester-based, headquarters was crowned the winning office, donating over 86,000 essential items and the $10,000 grant to Cityteam— an organization dedicated to helping community members impacted by homelessness through providing hot meals, groceries, shelter, housing and restorative programs, learning and career help, and much more.
Since 2017, the Power of Giving program has donated over 700,000 items and provided over 2,500 hours of volunteer time to non-profits across the country.
To learn more about Power Home Remodeling and explore open career opportunities, visit http://www.powerhrg.com.
Facebook | Twitter | YouTube | LinkedIn | Instagram
About Power Home Remodeling
Power Home Remodeling is a dream realization company — believing its purpose is to create positive change in everything the company touches — from customers' homes to employees' lives to the communities they live and work in. Power realizes this purpose by being people-first. Its employees and customers come before profit and their well-being factors into every business decision. Established in 1992, Power is the nation's largest, full-service, exterior home remodeler with more than 3,000 employees, over one million lifetime customers, and $825 million in annual revenue. Headquartered in the Philadelphia region, Power's primary product line includes windows, siding, roofing, doors, solar roofing panels, and attic insulation, providing energy-saving solutions to residents across its operating territories, including Arizona, Colorado, Connecticut, Delaware, Florida, Georgia, Indiana, Illinois, Maryland, Massachusetts, Michigan, New Hampshire, New Jersey, New York, North Carolina, Pennsylvania, Rhode Island, South Carolina, Tennessee, Texas, Virginia, Washington D.C., and Wisconsin.