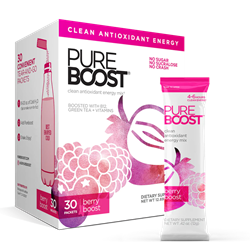 SAN DIEGO (PRWEB) December 14, 2022
Pureboost, the #1 best-selling antioxidant clean energy drink mix that is free of sugar and sucralose, today announced that the brand is now available across select Walgreens stores nationwide and on Walgreens.com. Pureboost will offer their two most popular flavors Berry Boost and Citrus Sunrise in a unique 6-count carton, which is perfectly sized for new customer trial.
Pureboost's entry into Walgreens marks the brand's latest accomplishment towards establishing a stronger retailer foothold in the clean energy category. Since launching in 2018, Pureboost generated over $12.3M in revenue during its first three years of business and is on track to reach $100M in revenue by 2026. Thus far, Pureboost has garnered over 20,000+ 5-star reviews on Amazon.com and shows no signs of slowing down.
"We are committed to helping people lead healthier and more active lives by supporting their best moments with our clean energy hydration that is crash-free, and of course, delicious," said Pureboost co-Founder Sean Ross. "We are excited to work with a partner like Walgreens who can help us achieve our mission of inspiring individuals to be healthier and feel better as a result of their hydration. Given that we are driven by the community, the ability of Walgreens to reach such a wide audience will help make our offerings more accessible."
Pureboost was founded by a team of four parents and active lifestyle individuals who were in search of a drink that would help them keep up with their kids, and be as pure and delicious as possible. Pureboost is formulated with natural green tea caffeine, vitamin B12, over 25 vitamins, minerals, and electrolytes, Pureboost is made in the USA, with globally sourced ingredients, and is free of dairy, soy, or gluten.
For more information or to purchase Pureboost, please visit Pureboost.com.