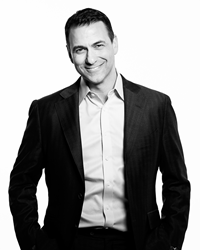 There is a radically better way to identify and develop talent and Catalyte is leading the way.
BALTIMORE (PRWEB) December 13, 2022
Catalyte, the world's leader in creating high-performing, diverse and productive technology workforces, is proud to announce the appointment of Matt Derella as the company's new Chief Executive Officer. As CEO, Derella, the former Chief Customer Officer for Twitter, will assume day-to-day management of Catalyte and oversight of the company's overall strategy, effective December 15th. Catalyte's former CEO, Jacob Hsu, will transition to Catalyte Board Director.
"I am thrilled for Matt to join us as Catalyte takes its next tremendous leap forward," said Michael Rosenbaum, Catalyte's founder, and Chairman. "Matt is an incredibly accomplished leader with experience leading 1,500+ person teams at some of the most important technology platforms of our time. He is a globally recognized, singularly effective leader known for driving hypergrowth and big leaps forward. Most importantly, Matt carries our mission deeply and personally. One of his superpowers is an innate ability to tie that mission to building large, impactful organizations where each individual in that organization can fly."
"I am honored to take on the role of CEO at Catalyte at this exciting time as the company continues to rewire the labor market," said Derella. "There is a radically better way to identify and develop talent and Catalyte is leading the way – from building industry-leading technology to forging partnerships with the world's leading organizations. Catalyte has tremendous momentum leading this new, data-driven approach to building talent-rich teams that drive results."
"We believe companies benefit significantly when they hire people with different backgrounds, perspectives, and ideas," said Christian Juhl, Global CEO of GroupM, one of Catalyte's customers. "Diversifying our talent pipeline is critical to our success. Catalyte has been a key partner for us and many others in supporting this work. Matt is a proven leader whose skills will position Catalyte well for future growth."
"I'm so proud of the incredible work we have done these past six years at Catalyte, and am optimistic and excited for what's to come," said outgoing CEO Jacob Hsu. "This past year, I have had the incredible opportunity to advise public sector and government leaders on future policies that could become catalysts to change our systems for the better. Through this process, I have begun carving a personal pathway that runs through social innovation, entrepreneurship, and public service. I look forward to working closely with Matt and the board, supporting them on strategy, vision, culture, and recruiting. With Matt at the helm as CEO, me supporting him along with the rest of the board, I could not be more excited about the future of Catalyte, our team, our shareholders, and our partners."
About Matt Derella
Matt Derella serves on the board of MoneyLion, a mobile bank that provides access to capital and financial health for millions of customers. He also serves on the board of Catalyte. He joined venture capital firm 01 Advisors in September 2021 as an operating partner to help early stage technology companies scale their customer base and operations and has worked there until this recent appointment. Prior to 01 Advisors, he was Chief Customer Officer for Twitter. Reporting to the CEO, Derella responsibilities included revenue performance, content partnerships, country operations, and customer service around the world. Since Derella became an executive officer and assumed responsibility for all revenue, Twitter underwent a massive business and cultural transformation resulting in their market cap expanding more than 2x in 3 years – from ~$20B in early 2018 to ~$44B in 2021. Prior to Twitter he held several leadership roles at Google. Matt is inducted into the Advertising Hall of Achievement and was named one of the World's Top 100 Digital Marketers by The Drum. He is married with two kids and lives in New York City.
Company history
In the late 1990s, Catalyte's founder Michael Rosenbaum was a Harvard economics and law fellow. As an advisor to the Clinton White House, he advocated that underinvested communities contain just as many people with talent to be exceptional software engineers as any other place. He argued they are just overlooked by a system that values background and diplomas over innate ability and relies on resumes that correlate with race, class, and gender, rather than pure talent.
To prove his point, Michael founded Catalyte in 2000, using machine learning to objectively discover and train candidates who would be in the top echelon of all software engineers after building the necessary skills. Catalyte expands the talent pool and delivers exceptional early-and-mid-career tech talent. This helps clients and partners improve the delivery quality and productivity of their software engineering teams while driving diversity.
Catalyte today
More than 20 years later, Catalyte continues to demonstrate that talent is everywhere, hidden in plain sight. It creates a more fair, inclusive, and effective way to identify people that have innate skills, talent, and potential. Catalyte delivers entry and mid-level level roles for data analytics, programmatic ad buying, and IT services. Apprentices advanced through Catalyte's platform consistently outperform traditional hiring methods in speed, quality, and performance. By giving high-grit, high-aptitude talent the opportunity to launch new careers in the technology industry, Catalyte transforms individuals, companies and communities.