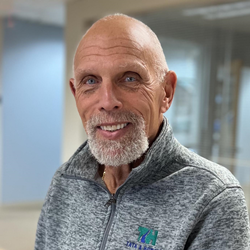 Since the firm's inception, Paul has served as a pillar of innovation, integrity, and technical excellence to Tata & Howard.
MARLBOROUGH, Mass. (PRWEB) December 15, 2022
Tata & Howard, Inc., a leading innovator in water, wastewater, and stormwater engineering solutions, has announced the retirement of Tata & Howard Co-Founder and Senior Vice President Paul Howard as of December 31, 2022. While he is stepping down from day-to-day operations, Mr. Howard will remain on the Board of Directors and serve as a technical advisor to the current leadership team led by Karen Gracey, P.E. and Jenna Rzasa, P.E., who were named Co-Presidents in 2017.
"Tata & Howard's succession plan was underway when the company became a 100% ESOP in 2014," commented Ms. Rzasa. "While Paul was originally planning to retire years ago, he graciously remained on the team to assist during the leadership transition that was expedited due to the untimely death of our firm's President Don Tata."
Donald Tata and Paul Howard co-founded Tata & Howard in 1992 and grew the firm from a two-person start-up to a highly successful engineering firm with multiple offices throughout New England and Arizona. In 2014, Mr. Tata and Mr. Howard created a 100% ESOP for Tata & Howard and lined up Ms. Gracey and Ms. Rzasa to assume leadership while they transitioned to retirement. However, in 2017, Mr. Tata passed away after a short illness. At that time, Mr. Howard resumed a full-time role with the company to assist the newly appointed Co-Presidents with the transition. Now five years later, Mr. Howard is looking forward to retirement.
Gracey and Rzasa have been with the firm since 1998 and 1997, respectively, and were named to the Board of Directors in 2013. As Co-Presidents, they have focused on Tata & Howard's strategic plan while adhering to the firm's core values and mission of providing unsurpassed solutions in the water environment. Vice Presidents Justine Carroll, P.E., Ryan Neyland, P.E., and Jon Gregory, P.E., who have a combined 50 years of experience with the firm, will continue to provide strategic and operational support to Gracey and Rzasa.
"Since the firm's inception, Paul has served as a pillar of innovation, integrity, and technical excellence to Tata & Howard," added Ms. Gracey. "While we will miss him in the daily operations of the firm, we are grateful for his unwavering support over the past five years and are looking forward to his continued thought leadership as part of the Board."
Mr. Howard received his B.S. in Engineering from Worcester Polytechnic Institute where he met Mr. Tata. Mr. Howard's career has included numerous success stories including the design and construction of the Shrewsbury, MA Home Farm Water Treatment Facility, which at time of construction was the second largest biological treatment facility in the country, and which received the prestigious 2020 Bronze Award for Engineering Excellence through ACEC. Additionally, Mr. Howard served as Project Manager for the design and construction of the Town of Natick's water treatment facility, which was the first to recycle backwash water in the Commonwealth of Massachusetts. He has served as President of the Massachusetts Water Works Association and has been involved in many trade committees including legislative, technical, awards, finance, and nominating. Mr. Howard was the recipient of the 2009 Past President's Award, 2011 William H. McGinness Award, 2016 Water Works State Leadership Award, and the 2018 Executive Director Award. He is also a lifetime member of the American Water Works Association.
About Tata & Howard, Inc.
Founded in 1992, Tata & Howard, Inc. is a 100% employee-owned water, wastewater, and stormwater consulting engineering firm dedicated to consistently delivering cost-effective, innovative project solutions.Working with clients as a trusted partner, Tata & Howard provides a full range of environmental engineering services, from concept to completion, as well as sustainable solutions including low impact development and LEED certified building. Tata & Howard has gained a solid reputation as an industry leader in the Northeast by bringing knowledge, integrity, and dedicated service to all sized markets, both public and private. With offices in Massachusetts, Connecticut, New Hampshire, and Arizona, Tata & Howard's national expansion has included projects in Louisiana, New Mexico, New York, and Pennsylvania. For more information, please visit http://www.tataandhoward.com.