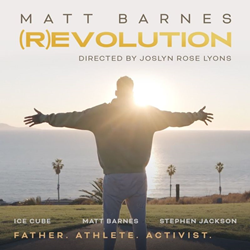 "(R)evolution is not only a look back, or look ahead, it's a look within," said director Joslyn Rose Lyons.
NEW YORK (PRWEB) December 13, 2022
1091 Pictures, a Chicken Soup for the Soul Entertainment company, today announced the new documentary (R)evolution, profiling NBA Champion and multi-media personality Matt Barnes, will debut in the U.S. on all major VOD platforms beginning December 13. (R)evolution is directed by award-winning filmmaker Joslyn Rose Lyons and is executive produced by Barnes, Lyons, Greg Maurice, Ray Young, and Jelani McCoy.
Through interviews with his father, colleagues, and friends, including Stephen Jackson and Ice Cube, (R)evolution will allow viewers to see Barnes from a new perspective. The documentary highlights Barnes' personal journey from NBA bad boy to entrepreneur, content creator and community activist in the hopes of inspiring others to persevere. (R)evolution will offer viewers insight and context into the parts of Barnes' life beyond speculation and the headlines.
Since retiring from the league in 2017, Barnes has remained a prominent figure in sports, appearing on ESPN's The Jump and Get Up and co-hosting the popular Showtime Sports' podcast All the Smoke with Matt Barnes & Stephen Jackson. His career arc behind the scenes has been even more impressive. Among his many business ventures and investments, the serial entrepreneur owns a cannabis brand, SWISH, which aims to create economic opportunities for marginalized communities while educating the world about CBD and THC's health and wellness benefits. Barnes also founded and helmed Athletes Vs. Cancer, which provides resources for the families of cancer patients while raising awareness about innovative treatments.
"(R)evolution is not only a look back, or look ahead, it's a look within," said director Joslyn Rose Lyons. "My approach is to focus on the inner struggles of athletes' stories and to reframe how we see their external strengths by shining a light on their inner journey so that we can ultimately see that evolution is possible."
"We are extremely proud of the creative works that Joslyn is doing in that space by showcasing a different side and human element of these professional athletes that we usually don't empathize with because of their stature," said Gregory Maurice, director of content acquisition at 1091 Pictures in a statement. "Matt is revered by his peers and current professional athletes because of his authenticity. It's a beautiful thing to watch him being a great father and role model to his kids."
(R)evolution is available for purchase HERE
About 1091 Pictures
1091 Pictures, a Chicken Soup for the Soul Entertainment (Nasdaq: CSSE) company, is a modern distribution partner for independent film and series owners, offering content licensing and delivery to over 100 destinations in over 100 countries. The company represents over 500 filmmakers and distributors and has amassed over 150 award nominations, including two Academy Award® nominations, an Emmy nomination, a Grammy Award for Best Music Film, and over a dozen Spirit Awards nominations. 1091 Pictures' diverse slate of releases include NYT Critics' Picks such as The Ghost of Peter Sellers and Grammy-Award Winner Linda Ronstadt: The Sound of My Voice, riveting sports stories such as A Kid From Coney Island executive produced by Kevin Durant and featuring Stephon Marbury and Red Bull's The Dawn Wall, audience favorites such as The Last Blockbuster, groundbreaking documentaries such as Close Encounters of The Fifth Kind and The Phenomenon, which reveal the latest intelligence on UFOs, and indie film hits such as Academy Award® Winner Taika Waititi's What We Do in the Shadows and Hunt for the Wilderpeople. For more information, please visit: 1091pictures.com
About Chicken Soup for the Soul Entertainment
Chicken Soup for the Soul Entertainment provides premium content to value-conscious consumers. The company is one of the largest advertising-supported video-on-demand (AVOD) companies in the US, with three flagship AVOD streaming services: Redbox, Crackle and Chicken Soup for the Soul. In addition, the company operates Redbox Free Live TV, a free ad-supported streaming television service (FAST), with over 150 channels as well as a transaction video on demand (TVOD) service, and a network of approximately 34,000 kiosks across the US for DVD rentals. To provide original and exclusive content to its viewers, the company creates, acquires and distributes films and TV series through its Screen Media and Chicken Soup for the Soul TV Group subsidiaries. Chicken Soup for the Soul Entertainment is a subsidiary of Chicken Soup for the Soul, LLC, which publishes the famous book series and produces super-premium pet food under the Chicken Soup for the Soul brand name.