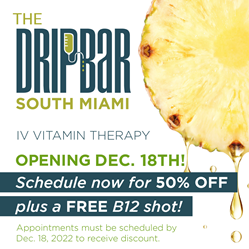 To celebrate their arrival, The DRIPBaR South Miami is offering 50% off any IV drip as well as a FREE B12 Quick Shot on your first visit.
SOUTH MIAMI BEACH, Fla. (PRWEB) December 14, 2022
The DRIPBaR Lands in South Miami Beach, FL on December 18th!
December 2022: The DRIPBaR is excited to announce the opening of its newest location in South Miami, Florida, on December 18th, 2022. This marks the newest location for the franchise, with approximately 500+ additional locations in the pipeline.
The DRIPBaR South Miami will offer all of the standard DRIPBaR services, including IV vitamin therapy and IM Quick Shots. This particular location will offer a complete regimen of wellness offerings, including Red Light Therapy, Infrared, HaloTherapy, HydraFacials, Botox and Fillers, and Hyperbaric Oxygen Therapy, which uses increased pressure to infuse the body with oxygen and can help with all kinds of things, including inflammation, poor circulation, chronic infections, and more.
The DRIPBaR South Miami will bring cutting-edge IV therapy and additional wellness services to the surrounding communities. The DRIPBaR of South Miami will be a welcoming and relaxing space for the community, where locals and visitors alike can feel their best.
Customers will have a variety of IV Lifestyle and IV Health Support Drips to choose from. All of these services are designed to help customers look and feel their very best, whether they are looking for a quick boost or a more long-term wellness solution. For those who don't have time for a full vitamin infusion but want the benefit, clients can choose one of five IM Quick Shots that give the body an immediate boost.
Designed to offer quick doses of powerful and optimally-balanced nutrients and formulas, The DRIPBaR's infusions are popular for boosting energy, hydrating, detoxing from chemicals and toxins, improving overall health and vitality, and addressing more specific wellness needs. All IV infusions at The DRIPBaR South Miami are administered by highly trained nurse practitioners and registered nurses in a safe, comfortable, and welcoming day spa environment.
To celebrate their arrival, The DRIPBaR South Miami is offering 50% off any IV drip as well as a FREE B12 Quick Shot on your first visit.
Appointments can be booked here!
About The DRIPBaR
Founded in 2016, The DRIPBaR is a nationwide franchise focused on helping people obtain their best physical and mental health using intravenous therapies.
Through advances in cellular and biological science, The DRIPBaR helps clients fight the consequences of chronic illness, address the effects of aging, and achieve balanced wellness. With a focus on ever-evolving treatments and medical advancements, the franchise hopes to shorten the gap between concierge and treatment-based medicine.
The DRIPBaR already has more than 500 additional locations in various stages of development across 28 states, with nearly 30 currently open and operating. For more information, visit http://www.thedripbar.com.
The DRIPBaR South Miami
5734 Sunset Drive
South Miami, FL 33143
(305) 662-7291
Miami151@TheDRIPBaR.com