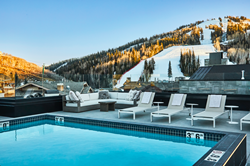 Various new après ski experiences combine cold plunging with other mindful practices to maximize the healing and recovery effects.
DEER VALLEY, Utah (PRWEB) December 14, 2022
Deer Valley's newest luxury resort and residences, Goldener Hirsch, Auberge Resorts Collection, and the revolutionary cold plunge company, Plunge, have partnered to bring winter sports enthusiasts from slopes to recovery with a new après ski wellness program that will launch on January 1, 2023. Located steps away from the lifts at Deer Valley's Silver Lake Village and in proximity to Park City's numerous other ski resorts, Goldener Hirsch guests will now have complimentary access to the Plunge tub on the resort's rooftop, which also features a heated pool, hot tub, sauna, and undisturbed mountain views.
Sports medicine has utilized cold water therapy for years, to help the active recovery of muscles. Cold plunging is said to boost mood, provide elevated energy, build recovery, relieve pain, and promote better sleep. Plunge's tub uses powerful cooling, filtration, circulation and sanitation for cold, clean water that reaches temperatures down to 39°F. (Guests will have complete control of their preferred temperature.)
After a day on the slopes, guests that are interested in achieving deeper physical and mental benefits may appreciate the Plunge's proximity to the heated pools and hot sauna. The rooftop wellness hub allows guests to alternate between the cold water tub and the heated pool or hot sauna, often called the Nordic Cycle, for hot-cold therapy.
The partnership will also include various new après ski experiences that combine cold plunging with other mindful practices to maximize the healing effects. These experiences, which are available at an additional cost, will be led by highly qualified wellness practitioners and include:

Inhalation, Exhalation: Beginning with 15 minutes of pranayama breathwork, guests will learn the mechanics of how to breathe properly while plunging. After a session in the icy bath, they will emerge to a special heart-warming Cacao ceremony waiting for them.
Cardio to Plunge: This performance-based experience starts with a 4-6 minute warmup to increase blood flow to muscles before a HIIT circuit for a rejuvenating boost of energy. A 10-minute cool-down also serves as a lesson in the benefits of cold exposure before jumping into the tub.
Hot to Cold: To transform your physical and mental body, this experience taps into the Nordic Cycle ritual. Begin in the rooftop sauna with guided breathwork before guests immerse their breathing techniques in the cold water.
The Plunge and après ski wellness will be accessible for guests to use during pool hours (8 a.m. to 10 p.m.) through March 2023. For more information, please visit aubergeresorts.com/goldenerhirsch.
About Goldener Hirsch, Auberge Resorts Collection
Goldener Hirsch, Auberge Resorts Collection is an iconic luxury inn located in legendary Deer Valley, Utah. Designed in the spirit of an Austrian ski chalet, the intimate resort's mid-mountain location offers direct access to over 100 miles of perfectly groomed ski runs as well as warm weather outdoor pursuits. The 18 newly redesigned rooms and suites, including a Signature Suite that occupies the entire fourth floor, offer old-world charm with wood-burning fireplaces, vaulted ceilings and arched doorways; and, 40 residences, set in two new modern buildings designed by acclaimed architect Tom Kundig, are outfitted with full-service kitchens, contemporary living spaces and private balconies. Resort amenities include a luxurious lobby, adjacent Terrasse with seating and fire pits, exclusive private dining room, unique venues for private events and post-adventure wellness amenities such as customized massages in spa suites, breathtaking rooftop pool, infinity-edge hot tub and state-of-the-art fitness center. An award-winning restaurant skillfully marries Bavarian specialties with farm-fresh regional fare sourced from local Park City pastures, while the Antler Lounge, a chic and vibrant gathering spot, comes alive in the evenings with après cocktails and live entertainment. Founded in 1992, the inn is owned by the philanthropic Eccles family who have been a part of the development of Utah's ski region since the late 1800s.
For more information: aubergeresorts.com/goldenerhirsch
Follow Goldener Hirsch on Instagram @goldenerhirschauberge
About Plunge
Plunge is an innovative health and wellness company dedicated to helping people push and grow past their boundaries through cold water exposure. Plunge's revolutionary Cold Plunge offers crystal clear, 39° water on demand without needing ice. This design allows you to seize the incredible health benefits of cold exposure anytime you wish. Plunge is a market leader in the growing industry of cold therapy and beyond. To learn more about Plunge visit http://www.thecoldplunge.com
Media Contact
Murphy O'Brien Public Relations
goldenerhirsch@murphyobrien.com