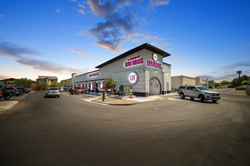 LUV Car Wash plans to operate 20 - 25 locations in the Eastern PA and New Jersey markets in the next 18 - 24 months through acquisitions of existing washes and ground-up construction of new sites.
PHILADELPHIA (PRWEB) December 15, 2022
LUV Car Wash today marks a full year of operation and announced the acquisition of The Autowash Group, which consists of eight car wash locations in the greater Philadelphia area, kicking off LUV's entry to the Eastern Pennsylvania and New Jersey market. LUV plans to operate between 20 – 25 locations in these markets in the next 18 – 24 months through acquisitions of existing washes and ground-up construction of new sites.
The Autowash Group was originally founded in 1972 by Gary Karakelian. His son Peter Karakelian later joined the family business and has been leading operations. Acquiring these locations was a natural fit for LUV, given Gary and Peter's focus on enhancing neighborhoods, building community, and providing a fun, customer-centric experience for loyal customers throughout the greater Philadelphia market. The acquisition includes PA locations in Frazer, Exton, West Norriton, King of Prussia, Coatesville, Warminster, and Pottstown, as well as a location in Egg Harbor, NJ.
"We are thrilled and honored to build on Gary and Pete's legacy and bring their operation into the LUV family," said LUV Chief Executive Officer Darren Skarecky. "We have been eager to establish our brand in the City of Brotherly LUV, and this acquisition is a great springboard for our growth. There is no better way to celebrate our successful first year of operations, which is now firmly established on both coasts, inspiring us to keep spreading the LUV."
"We are very proud to have the LUV team build on our legacy in the Philly market," said Pete Karakelian of the acquisition. "As we get to know the team at LUV, we are confident they are the right fit to continue our commitment to serving our customers and the communities in which we operate."
Since acquiring its first location in December 2021, LUV has 71 operating locations across the country and on both coasts, with multiple locations now open in California, Arizona, Nevada, Georgia, Florida, and now Pennsylvania, with additional locations in the pipeline. For more information, visit LUVCarWash.com.
About LUV Car Wash
Headquartered in Gilbert, Arizona, LUV Car Wash was founded in 2021 by industry veterans Darren Skarecky, JT Thomson, and Susquehanna Private Capital. LUV is a nationwide express car wash platform focused on enhancing the customer experience. Through its aggressive, multi-pronged growth strategy, the company plans to expand across the country. For more information about LUV Car Wash, visit LUVCarWash.com.