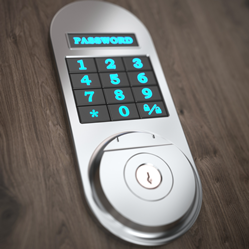 Smart lock installation and repair also require additional training, something only professional locksmiths are likely to have.
MIAMI (PRWEB) December 15, 2022
Benefits:
Their potential to offer greater security is immediately apparent. Since they have no mechanical parts, they are a lot more difficult for a burglar to circumvent. You can generate an infinite number of codes to lock and unlock them, changing them as needed.
The smart lock also keeps a record of every time it is opened and closed. Perhaps the best thing is that there is no longer a need for physical keys. Think of not having to incur the cost of constantly having to replace lost keys.
If you're considering investing in a smart lock for your rental property, here are four that we think you should take a look at.
The 4 Best Smart Locks For Rental Properties:

The August Smart Lock and Connect.
The August Smart Lock and Connect have been voted CNETs best smart lock for apartments in 2020 and 2022.
If you want a low-tech install, this is a good choice. The smart lock fits over the existing deadbolt requiring no hardware changes.
It's also a multitasker in that while you can use the original key, this isn't necessary. You have the option of using the smart lock exclusively, which you can control with an app from your cell phone or an Apple Watch.
Give virtual keys to anybody you need to. These allow them to enter your house or apartment for a pre-set period after which their access is withdrawn.
Wondering if you forgot to lock the front door as you sit in your car driving to work? No need to make the return trip home as the August Smart Lock remembers and locks it for you.
It also uses encryption technology to protect your passwords, codes, and other security data over Wi-Fi and Bluetooth networks.
The Schlage Encode Smart Wi-Fi Deadbolt.
This smart lock requires a little more effort for installation, but this is the lock for you if you prefer one that works directly over your Wi-Fi and not through a connect module.
It works with Google Assistant. Echo Smart Plus, Samsung's SmartThings, and Amazon's Alexa, but you'll need to check which features you get with each voice assistant since they differ.
Because it's a deadbolt, this one also slips directly over your existing lock, with the option to use your traditional key as a backup. Installation only requires a Phillips head screwdriver.
It also comes with ANSI grade 1 certification, which is the highest security rating you can get for a lock as well as a fingerprint-resistant feature.
You can program in as many as 30 codes with this lock.
This is the budget option on our list. While it has many of the basic functions you need from a smart lock, you're not going to get the voice assistant integrations or remote monitoring capacity that you do with more expensive locks.
The Wyze Lock Bolt has a fingerprint reader, which allows you to program as many as 50 fingerprints into its memory.
You can also choose to input a code which the lock helps you obscure by letting you punch in multiple digits, as long as your four-digit code is included in it.
It works over Bluetooth and not Wi-Fi, controlled over a mobile phone app. You can also program in up to 20 permanent and temporary codes.
Locks in this family fit on virtually any door, American, European, or Scandinavian configurations, so it is easy to install and retrofit.
Its mobile app also allows you to lock and unlock doors as well as keep track of who goes into and out of any property that you own, at any time of day, from anywhere in the world.
Its technology is cloud-based, which means a higher level of security for any personal data your lock may use to work.
While many of the options above are DIY friendly, in a case where you have multiple apartments on several properties you may choose to outsource to a company.
It would be more convenient. Plus, professional locksmiths will have all the equipment to do the job properly the first time. If there is a problem with an installation, they're more likely to identify what it is and be able to solve it quickly.
Smart lock installation and repair also require additional training, something only professional locksmiths are likely to have.
There are also the savings that come with bulk installations, which may not be achieved if you choose to do the installations yourself.
Then, there's the peace of mind that comes with knowing a skilled professional did your installation, which you'll agree is worth the price you pay for it.
We offer a range of commercial, business, and residential installation services. Visit our website or contact us at
305-984-9922 to learn more.