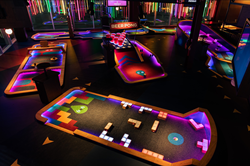 ST. LOUIS (PRWEB) December 14, 2022
Believe the hype and welcome to the party! Puttshack, the world's first and only upscale, tech-infused mini golf experience, is thrilled to officially bring its competitive socializing concept to St. Louis with the soft opening of its new location in City Foundry STL, located at 3730 Foundry Way. Puttshack St. Louis is slated to officially open on Monday, December 19, and will provide locals and visitors alike with four Instagrammable mini golf courses, a globally-inspired dining menu and full cocktail bar, along with world-class hospitality. Puttshack invites patrons to join Puttshack Perks to be the first to know when reservations officially open and receive a free game for signing up before opening to the public, for more information, click here.
"As the leader in tech-forward social entertainment, we are thrilled to officially open our doors in the City Foundry," said Joe Vrankin, CEO of Puttshack. "Puttshack provides an unforgettable experience for all ages, from families looking for a fun daytime outing, to friends looking for a place to grab drinks and a bite on a Friday night. We pride ourselves on offering the best vibes in town, and we welcome all to come check us out and see for themselves what we are all about!"
This incredible two-story, 26,500 square-foot space brings a high-energy, upscale nightlife vibe to the City Foundry STL. The space opens into a mezzanine that overlooks the entire first floor, which houses four tech-driven mini golf courses. Each custom-made course is powered by the brand's leading patented Trackaball™ technology, which is integrated throughout the entire game experience– including themed interactive holes seamless automated scoring, bonus point opportunities and more. Between games, guests can enjoy a culinary journey of globally inspired and dietary-inclusive dishes paired with hand crafted cocktails. Made in-house and of the highest quality, the menu features eclectic shareable and street food-infused dishes that will bring everyone to the table– including the regionally-inspired Red Hot Riplets Tailpipes. An homage to St. Louis cuisine, the barbecue-seasoned, fire-braised chicken spring rolls have a charitable tie, with $1 of every order directly supporting Room at the Inn- a shelter for displaced women, children, and families. Further tapping into its local roots, Puttshack St. Louis has collaborated with mural artist, Graffiti Woodworks, to add a unique stylistic element to the venue's swanky atmosphere.
Since opening its first location in 2018, Puttshack now has four locations open in the U.S. and four in the U.K. Puttshack St. Louis will be followed by Dallas, Denver, Houston, Nashville, Philadelphia, Pittsburgh, Reston, Scottsdale and second locations in Atlanta and Boston, all slated to open through 2023 and beyond. Puttshack continues strategic expansion plans with the company's newly announced growth capital round of $150 million from funds managed by BlackRock, Inc. The new capital will allow Puttshack to continue securing unique and desirable real estate opportunities as it expands into more top markets.
Puttshack St. Louis will be open to the public Sunday through Wednesday, 11am to 12am, and Thursday through Saturday, 11am to 1am. Kids are welcome into the venue until 8pm, after which it becomes 21+. For more information about Puttshack or to book your experience, visit https://www.puttshack.com/. For real-time updates, please follow Puttshack on Facebook, Instagram, TikTok, and Twitter.
About Puttshack
Puttshack is a leading concept in the emerging and growing market of competitive socializing. Combining a tech-infused mini golf game with exceptional food and beverage offering, Puttshack has multi-generation appeal. Patented Trackaball™ technology allows guests to play a point scoring game surrounded by an upscale and exciting environment. Puttshack is the perfect place to host a company off site, celebrate a birthday, date night or simply hang out with friends. Since opening its first location in 2018, Puttshack now has three London locations and one U.S. location in Atlanta with ambitious global plans for expansion.
The company has its global headquarters in Chicago, Ill. with a UK headquarters in London. For more information, please visit: https://www.puttshack.com.
About City Foundry STL
City Foundry STL (3730 Foundry Way, St. Louis, MO 63108) is a place for the community with a curated mix of restaurants, entertainment spaces, shops, offices, and more in the heart of St. Louis' Midtown. Transformed from the century-old Federal-Mogul manufacturing foundry, City Foundry STL pays homage to the city's industrial roots while celebrating the future of St. Louis' hospitality leaders in its central Food Hall. For more information about the progress of City Foundry STL, visit here as well as follow on social media on Facebook and Instagram.