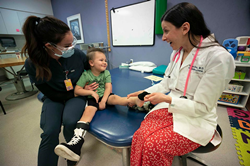 "This Level I verification is extremely meaningful to us at Shriners Children's, because it reflects our continual efforts to provide high-quality care to more children, closer to where they live."
SACRAMENTO, Calif. (PRWEB) December 15, 2022
Shriners Children's Northern California is the second pediatric hospital in the nation to obtain verification as a Level I Specialty Children's Surgery-Musculoskeletal Surgery Center by the American College of Surgeons (ACS), and the only facility on the west coast. The Level I verification is the highest of 3 levels of ACS surgical verification a pediatric hospital can receive.
Level I Specialty Children's Surgery-Musculoskeletal verification requires pediatric hospitals to meet strict standards, demonstrating that patients receiving surgery receive care under a multidisciplinary program while ensuring safety standards and processes, meticulous data collection, high quality improvement and appropriate surgical resources. The verification followed an extensive review of hospital structure, processes, and outcomes conducted by a team of ACS surveyors including experienced pediatric surgeons, anesthesiologists and nurses.
"This Level I verification is extremely meaningful to us at Shriners Children's, because it reflects our continual efforts to provide high-quality care to more children, closer to where they live," said Jerry G. Gantt, Shriners Children's Chairman of the Board of Trustees. "We are committed to providing hope and healing to the patients who come to Shriners Children's Northern California for surgical services."
The Shriners Hospitals for Children healthcare system has a long history of delivering exceptional pediatric care, through its three-part mission of caring for patients with the highest quality care, conducting research to gain knowledge and develop new treatments and providing educational opportunities for physicians and the next generation of healthcare professionals.
"We are honored to be only one of two pediatric hospitals in the nation with this verification," said Chief of Orthopedics, Michelle James, MD. "This verification from the American College of Surgeons reflects our organization's commitment to providing individualized, patient-centered, high-quality care and experience for the families we serve. It confirms to parents and healthcare professionals that, for their children and patients, the highest level of musculoskeletal care available in the nation can be received here."
Shriners Children's Northern California is ranked by U.S. News and Report as one of the top orthopedics program in the country, in partnership with UC Davis Children's Hospital. Shriners Children's Northern California's signature clinical programs within orthopedics includes fracture follow-up and care, hand and upper extremity program, lower extremity care, multidisciplinary neuromuscular programs, spine and scoliosis care and sports medicine. Patients receive care from a multi-disciplinary team of surgeons, anesthesiologists, nurse practitioners, psychiatrists and psychologists, burn technicians, occupational and physical therapists, nutritionists, social workers, pharmacists, child life specialists and orthotists. Shriners Children's continues to serve on their mission of treating any patient who qualifies for care regardless of their ability to pay or insurance status.
About Shriners Children's:
Shriners Children's is changing lives every day through innovative pediatric specialty care, world-class research and outstanding medical education. Our multiple locations in the United States, Canada and Mexico provide advanced care for children with orthopedic conditions, burns, spinal cord injuries, and cleft lip and palate. All care is provided regardless of the families' ability to pay. Shriners Children's has treated more than 1.5 million children from more than 170 countries over the last 100 years.
For more information on the care provided by Shriners Children's, go to shrinerschildrens.org
Shriners Hospitals for Children is a 501(c)(3) nonprofit organization and relies on the generosity of donors. All donations are tax deductible to the fullest extent permitted by law.