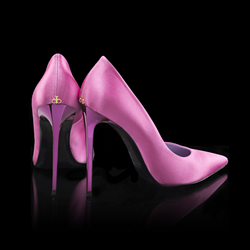 Barollo the most exclusive shoe and accessory line in the world.
VENETO, Italy (PRWEB) December 16, 2022
For nearly a decade, Barollo's Founder & Creative Director, Darren Smith, has been designing and producing custom shoes for A-List celebrities such as Angelina Jolie, Caitlyn Jenner, Marisa Tomei, Kelsea Ballerini, Isabel May, Chris Harrison, and Kurt Busch – making Barollo the most exclusive luxury footwear and accessory brand in the world.
Today, countless celebrities and professional athletes accessorize with Barollo shoes and handbags at the world's most prestigious events including the Academy Awards, Tonys, Grammys, Emmys, and the Cannes Film Festival and Barollo is proud to add famed creator of Sex and the City, Ms. Candace Bushnell, to the list for her cover and feature in Gurus Magazine.
"If there's one thing Candace knows, it's fashion and shoes. Barollo is honored to have been selected by Bushnell for the article," Smith shares, reflecting on his latest creation for the Barollo Dream Stiletto collection.
BRAND HISTORY
Barollo got its start creating of one-of-a-kind, handmade, bespoke masterpieces and is now looking to leverage its pedigree as the most exclusive shoe brand in the world to transition to a more scalable, ready-to-wear model while using the same time-honored traditions to craft its custom designs.
Barollo's inception and dedication to tradition and quality boasts a unique story. Smith didn't initially think of pursuing a career in fashion or shoemaking. Through what was nothing less than an act of fate, Smith stumbled upon a pair of craftsmen making riding boots by hand. He kept returning to watch the work, and ultimately, this inspiring moment led Smith to pack up and leave the states for Italy to learn the craft. After tirelessly researching the art of shoemaking, he realized Italy was home to the highest level of shoe and leather manufacturing. Through a unique combination of cultural tradition, craftsmanship perfected through the centuries, and attention to detail, Barollo found its home in the shoemaking capital of the world on the Rivera del Brenta in Veneto Italy.
For more information, please visit BarolloItaly.com or find Barollo on Instagram @BarolloItaly.