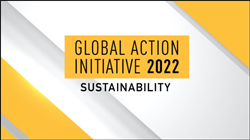 WASHINGTON (PRWEB) December 16, 2022
CGTN AMERICA releases "Global Action Initiative: How China Is Promoting a More Sustainable World"
2022 has been a tumultuous year. The world is reeling from conflict, hunger, inequality and climate change. Decades of efforts in advancing education and women's rights also suffered. In that context, the UN's 17 Sustainable Development Goals (SDG) assume critical importance.
The SDG is a key priority for China which has invested heavily in poverty alleviation, quality education, protecting biodiversity and green development.
The second day of our GAI special program focuses on China's challenges, its commitments and achievements. Viewers see keynote speeches from UN Deputy Secretary-General Amina Mohammed who lauds China for lifting hundreds of millions of people out of poverty. Elizabeth Maruma Mrema, the UN Executive Secretary of the Convention on Biological Diversity, speaks about China's accomplishments in biodiversity.
We also hear from Achim Steiner, Administrator of the UN Development Programme, who details the importance of sustainable development and how China is helping developing countries.
We also have a panel of global experts who discuss China's push toward electric vehicles, green development through its signature Belt and Road Initiative, how Beijing hosted the greenest Winter Olympics in history, the Global Development Initiative and much, much more.
That is followed by the premiere of the documentary: Sustainable in the U.S. The documentary explores how Americans are looking for answers to a sustainable future. It looks at issues like the impact of coal mining in the Appalachians region of the U.S. and the transition to sustainable agriculture.
At a time when the planet is in peril and our most vulnerable populations are under threat, CGTN America seeks context, perspective, and solutions.
"GAI 2022 Sustainability" special programs and documentaries are airing from December 15-20 starting at 2300 GMT. Please click here to find out more https://america.cgtn.com/gai/gai.html
FOR IMMEDIATE RELEASE. (This material is distributed by MediaLinks TV, LLC on behalf of CCTV. Additional information is available at the Department of Justice, Washington, D.C.)