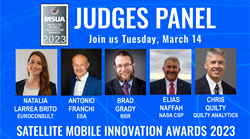 The 2023 MSUA Satellite Mobile Innovation Awards Winners will be revealed during the annual luncheon gala on March 14, 2023 at SATELLITE 2023 in Washington D.C. - Lisa Dreher, President, MSUA
MCLEAN, Va. (PRWEB) December 19, 2022
The Mobile Satellite Users Association (MSUA), a global not-for-profit focused on amplifying the voice of the millions of users of satellite services for mobile communication, navigation, and safety, announces its judges panel for the 2023 Satellite Mobile Innovation Awards.
"As the demand for reliable satellite mobile connectivity for land, aviation, and maritime on-the-move and on-the-pause applications continually increases and the commercialization of the space industry expands, we see a convergence of demand, new solutions availability, and network integration and sophistication occurring. It is with this in mind that we continue the Satellite Mobile Innovation Awards for 2023. The nominations are open now until January 27, 2023," says Lisa Dreher, President, MSUA.
"As MSUA goes into our 31st year, we are seeing more change in the satellite industry than ever before. For the 2023 judges panel we were seeking to find professionals with varying perspectives and areas of expertise. This year's judges panel will help identify winners for each of the award categories through a detailed review of all the nominations that they will blind-stack-rank. We are looking forward to all this year's nominations and encourage nominations for end user organizations and service providers," continues Dreher.
The 2023 MSUA Satellite Mobile Innovation Awards Winners will be revealed during the annual luncheon gala on March 14, 2023, at the Walter E. Washington Convention Center in Washington, DC during SATELLITE 2023.
MSUA 2023 Satellite Mobile Innovations Awards Judges Panel

Natalia Larrea Brito, US Director, Euroconsult
Antonio Franchi, Head of 5G and 6G Strategic Programme, European Space Agency (ESA)
Brad Grady, COO & Research Director Americas, Northern Sky Research (NSR), an Analysys Mason Company
Elias Naffah, Communications Services Program (CSP) Formulation Manager, NASA Glenn Research Center
Chris Quilty, Founder, Quilty Analytics
The MSUA 2023 Satellite Mobile Innovations Award categories include:
Company to Watch
5G Hybrid Wireless Mobility Innovation
Connected Mobile Platform Innovation
Mobile User Experience Innovation
Chairman's Award for Outstanding Innovation
Government Mobile Innovation
Mobile Marketing Campaign Award
New Space Mobile Innovation
Startup Mobile Innovation
Environment, Social, Governance (ESG) Impact Innovation
Outstanding Leadership in Use of Mobile Solution
Maritime Mobile Innovation
Land Mobile Innovation
Aerospace/Aviation Mobile Innovation
To sponsor the event or obtain tickets submit a request using the online registration form. Nominations and sponsorships for this special awards program are open now and more information can be obtained at msua.org/awards.
MSUA members receive complimentary nominations for the awards program. Non-members pay a $500 per category submission fee. To apply for MSUA membership, visit msua.org/join or contact membership@msua.org].
###
Media Inquiries | Lisa Dreher | marketing@msua.org, +1 425-442-1301
For more information visit https://www.msua.org.
ABOUT MSUA
The Mobile Satellite Users Association is a non-profit association dedicated to promoting the interests of the millions of users of satellite services for mobile communication, navigation, and safety worldwide. The association fosters the exchange of news, information, and ideas among and between users, suppliers of equipment and services, operators of satellite systems, and the various entities affecting the future of the industry. MSUA sponsors the annual Satellite Mobile Innovation Awards, celebrating the top anticipated and market-proven advancements in satellite services, and collaborates with conference organizers around the world to shape and facilitate conference programming dedicated to the users of satellite services. We invite you to join MSUA and to take part in our community. Visit msua.org to learn more.
Twitter: @MSUAorg
LinkedIn: https://www.linkedin.com/company/msua/