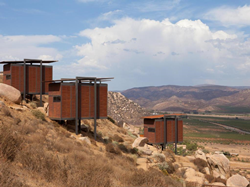 TIJUANA, Mexico (PRWEB) December 29, 2022
Day trips from San Diego are a popular means of visiting Baja California, but travelers extending their visits will find some of Mexico's most unique boutique hotels and resorts - from the laid-back beach town of Rosarito to the sprawling vineyards of Ensenada and Tecate. With abundant opportunities to relax, recharge, and indulge, these properties provide a treat for the senses.
Banyan Tree Valle de Guadalupe Resort, Spa and Winery – Coming in 2023
Valle de Guadalupe
Making its debut during the 2023 harvest season, Banyan Tree Valle de Guadalupe Resort, Spa and Winery will bring a new level of "ultra-luxury" to the valley. The 30-villa property will be home to Banyan Tree's first proprietary winery featuring vineyards, fermentation rooms, barreling and aging, a winemaking laboratory, tasting room, and underground cellar. Surrounded by olive oil groves and grapevines, five food and beverage venues will make up the center of the resort, including a terrace restaurant, fine dining eatery, cocktail bar, coffee house, and a hilltop rooftop concept with views of the valley. Known as a sanctuary for wellness, Banyan Tree's signature award-winning spa will include four treatment rooms, sauna, a state-of-the-art fitness center, and indoor and outdoor swimming pools. Hoja santa, white sage and other varieties of medicinal plants indigenous to the area will be grown at an onsite bio-endemic garden for use in restaurant and spa menus.
Rancho La Puerta
Tecate
A haven for healing just 45 minutes southeast of San Diego, Rancho La Puerta was ranked as the number one International Destination Spa in Travel + Leisure's 2022 World's Best Awards, garnering top recognition for the third year in a row. This life-changing wellness getaway spans over 4,000 acres of organic gardens, hiking trails, mountains, and meadows, with expansive fitness offerings and spa treatments, making it a prime destination for travelers to cleanse, relax, energize, and restore. Four full-service wellness and beauty centers offer holistic therapies, massage, body treatments, facials, herbal wraps, salon services and more, all using aromatic, medicinal herbs and other healing plants grown in their organic gardens. Guests can unwind in any of the 86 private casitas tucked away on the lush grounds and adorned with hand-painted tiles and museum-quality folk art, offering the ideal space for relaxation and reflection. Rancho La Puerta is currently offering a variety of winter stay specials.
Vista Hermosa Resort and Spa
Rosarito
Nestled in the charming oceanside community of Arrocito just 30 minutes from the Valle de Guadalupe, Vista Hermosa Resort and Spa immerses guests in Rosarito's beachy lifestyle with its open concept living space and ocean views from every balcony. The oceanfront condo-style resort has something for everyone, with premium amenities and accommodations ranging from studios and villas to the Junior Penthouse, Executive Suite, and a 3,280-square-foot Presidential Suite. Known for the best massage in Rosarito Beach, the on-site Spa Ventana al Mar offers luxurious treatments using high-quality, organic botanical ingredients. Visitors can also enjoy the famous Puerto Nuevo "Lobster Village," a culinary destination within walking distance, along with a variety of year-round activities including golfing, cycling, and horseback riding.
Entrevalle Hotel Boutique
Valle de Guadalupe
An elegant boutique hotel in the heart of the Valle de Guadalupe wine route, Entrevalle Boutique Hotel opened its doors to guests in April of 2020. Entrevalle Boutique Hotel offers travelers a central location to explore the land where more than 70 percent of Mexico's wine is produced. Guests are treated to breathtaking views of the onsite vineyard and surrounding mountains from the spacious terraces wrapping each of the hotel's 17 cabins. A number of charming wineries of all sizes are located nearby, including Viñas de Garza, Viña de Liceaga, El Pinar de 3 Mujeres, Vena Cava Winery, arguably the hippest winery in Mexico.
Ojo Azul Resort
Valle de Guadalupe
First-class amenities abound at this rustic yet elegant luxury boutique hotel, winery, and restaurant in the center of the Valle de Guadalupe. The full-service Ojo Azul Resort features sophisticated private casitas with views of the estate's vineyard housing its crown jewel, an underground private wine cellar providing an exclusive tastings of Bodega Almatierra wines, considered the best in the region. Guests can relax by the pool, enjoy immersive spa treatments, or experience true farm-to-table cuisine inspired by the region at the resort's signature restaurant, AlmaTierra. Located in Ensenada, Ojo Azul Resort is close to many of the top wineries in the valley, including neighboring Adobe Guadalupe, the region's first woman-owned winery.
About Baja California
The State of Baja California occupies the northern half of the Baja California peninsula, providing some of Mexico's most dramatic sea and landscapes in seven tourist destinations, including its capital, Mexicali, along with Tijuana, Ensenada, San Felipe, Rosarito, San Quintin and Tecate. From remote deserts and beaches to lush forests, the region is known for an array of outdoor activities, including spectacular camping, hiking, world-class surfing, sailing, deep sea fishing, and more. Baja California is also home to a growing culinary movement, with world-renowned restaurants and chefs, along with wineries and craft breweries that produce more than 80 percent of craft beer and 90 percent of wine in Mexico. In addition to tourism and hospitality, its unique bi-national location with California and Arizona to the north present collaborative business opportunities on a global scale. For more information, visit https://bajacalifornia.travel.