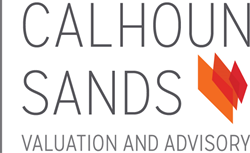 ATLANTA (PRWEB) December 30, 2022
Calhoun Sands Valuation & Advisory, Inc. (CSVA), a leading independent third-party commercial real estate valuation and consulting firm, has announced the acquisition of Chattahoochee Valuation Group, LLC (CVG). The acquisition of the Atlanta-based commercial real estate services firm will double the firm's traditional commercial appraisal capacity and meaningfully add to CSVA's specialty practice team including litigation support, expert witness testimony and eminent domain appraisals.
Chattahoochee Valuation Group has been a regional leader in real estate appraisal and consulting since 2013. Their work includes valuation of complex properties including wetland and stream mitigation banks, impartial expert witness testimony, feasibility analyses, and eminent domain appraisal services. The firm's founder, George Galphin, Jr., MAI is now Managing Director at CSVA. David Ball, MAI and Shelby Edwards, MAI were named as Directors.
"George and his team have built an impressive reputation for quality and reliability and we are very excited to add the team's expertise and knowledge to CSVA's platform for our customers," said Bennett Sands, MAI, ASA, Principal of CSVA.
Atlanta Business Chronicle currently ranks CSVA No. 6 on the List of Atlanta's Largest Commercial Real Estate Appraisers, with a nearly $3 billion-dollar appraisal volume out of its Atlanta office. The acquisition will further enhance the firm's ability to take on a wide range of specialized assignments as well as larger portfolio engagements. "I had the pleasure of working with George for several years earlier in my career and have a great deal of respect for his work and professionalism. The quality of his team and the niche expertise in specialized services makes for an outstanding fit for CSVA and we look forward to seeing great things accomplished by this collective team," said Chris Calhoun, MAI, Principal of CSVA.
Galphin stated, "We're excited about the opportunity to join forces with CSVA and expect the depth and breadth of the combined platform to be a tremendous value add to our client base."
Founded in 2013, Calhoun Sands Valuation & Advisory, Inc. offers comprehensive commercial real estate valuation and advisory services across all commercial property types, including specialty properties such as C-stores, Subdivisions, and Hotels. CSVA is known for its deep valuation expertise in the Southeastern Region and beyond, with strong analytics, timely delivery, and commitment to excellence in service.