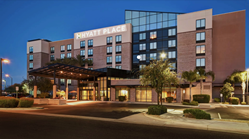 "This is the first Hyatt property to be owned & managed by HCW. We are excited to welcome the new flag in our portfolio" said Rick Huffman, HCW's President & CEO. "We look forward to more growth in the Phoenix market with 5 apartment developments & Caesars Republic Scottsdale opening in the future."
PHOENIX (PRWEB) December 29, 2022
HCW announces the purchase of the 127 guest room Hyatt Place Phoenix Gilbert. The six (6) story Hyatt property was built in 2009 and recently experienced a partial renovation. HCW plans to continue the upgrades in the coming year. The thriving southwest valley market has seen tremendous growth in recent years and the Hyatt Place is a great compliment to HCW other hotel assets. Hyatt Place Phoenix Gilbert marks HCW's sixth operating hotel in the Phoenix metropolitan area, with other properties in Chandler, Goodyear and Glendale. HCW's seventh hotel in the Valley of the Sun, Caesars Republic Scottsdale, will open in February 2024.
Hyatt Place Phoenix Gilbert is located at 3275 South Market Street off Santan Freeway and South Val Vista Drive near Phoenix-Mesa Gateway Airport, Chandler Airpark and the 250-acre Rivulon business district. This ideal location provides many other demand generators for the property, including the Phoenix Children's Specialty Center – Mercy Gilbert Medical Center, Gilbert Arizona Temple, Arizona State University's Polytechnic Campus and Isagenix's World Headquarters. Near-bye attractions and activities include Wild Horse Pass Resort and Casino, SanTan Village, Main Event Center and Top Golf.
"This is the first Hyatt property to be owned and managed by HCW. We are excited to welcome the new flag in our portfolio." said Rick Huffman, HCW's President & CEO. "We look forward to more growth in the Phoenix market with five apartment developments and Caesars Republic Scottsdale opening in the next couple of years."
Amenities at the Hyatt Place Phoenix Gilbert include complimentary Wi-Fi, a 24-hour modern gym, an outdoor pool and 1,100 sf of meeting and event space. The property also includes The Placery lobby Bar with daily food service offering complimentary breakfast and The Market offering grab and go options 24/7.
For Hyatt Place Phoenix Gilbert reservations, call 480.899.5900 or visit HyattPlaceGilbert.com
Transaction brokered by Bill Murney at Cushman & Wakefield.
ABOUT HYATT PLACE
Hyatt Place is a part of the Hyatt family of hotels, representing the future of select service and consistently leading in the category. Hyatt Place hotels can deliver exceptional performance through a unique service model that we continue to evolve and enhance based on customer and owner insights. There are currently 410 Hyatt Place hotels in 324 cities. Learn more at hyatt.com
ABOUT HCW
HCW is a nationwide real estate property development, management and hospitality company with offices in Wichita, KS, Branson, MO and Phoenix, AZ. Our diverse portfolio spans from full-service hotels, apartments and retail entertainment districts. For more information about HCW please visit HCWDevelopment.com or call 417.332.3400.
###