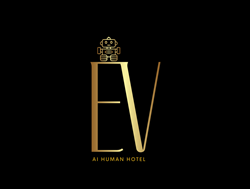 Crypto and Hospitality under one roof
ATLANTA (PRWEB) February 10, 2022
The most technologically advanced hotel, designed with a physical CDX Crypto trading floor and the ability to conduct commerce with Cryptocurrency to debut in array of EV Hotel locations
EV Hotel is the first Crypto and Tech Hotel with over 20 uniquely designed and integrated smart devices in each guest room, controlled by EV Smart Devices and a suite of EV Technology Solutions such as; EV Human; an all-in-one Property Management System, Contactless customer service options, comprehensive Back Office operations software, and EV Smart; a branded smart device functionality and APP.
The EV Hotel will operate without a formal front desk but will offer "experience desk" employees that guests and patrons will be able to meet and receive assistance from as needed. The brand has cutting edge technology that the industry has never seen before, such as Automated check-in, the EV Smart Mirror, EV Smart Toilet, EV Smart Faucet, and much more cutting-edge technology. The NFT Lobby and Guest rooms will further elevate the guest experience.
Ken Patel EV Hotel CEO & Founder has recently been quoted as saying "Ventures like this are new to the hospitality and digital world, and that is why I am excited to announce the partnership between EV Hotel and CDX. This sort of partnership usually does not come to market, and to have Crypto in the same sentence with hospitality is unheard of. What we are doing is to create an experience that brings hospitality back and gives it life again. Innovation is a team sport, and this EV CDX venture merges the capabilities of our respective teams."
The crypto community is craving for a place where they can come together and share their passions, needs and crypto expertise with the community. With the likes of a sophisticated trading floor coming to EV hotel, it gives them the experience of just that. The CDX team that has developed, deployed, and created markets for commodities all over the world, have now properly entered the world of digital assets. CDX will bridge the gap of generations with education and shared experience amongst like-minded traders. Seeing a physical trading facility, where cryptocurrency traders can hold "seat-like" trading rights, crypto enthusiast as well as potential enthusiasts, can come and visit and experience the action.
The CDX Crypto Trading Floor will also be attached to a powerful media component, where viewers all over the world can tune in to all the excitement, action, and energy that's happening on the CDX Exchange Floor inside the EV Hotel venues. CDX will give individual traders and companies around the world the ability to buy membership trading rights, enabling discounted exchange fees and other exchange amenities in addition to enjoying a physical presence at each EV CDX location.
"CDX is honored to partner with EV Hotels to create this exciting new concept that merges the digital asset world with cutting edge hotel technology and operations," said Frederick Grede, Co-Founder of CDX. "This exciting new venture will create a new physical trading facility which will provide increased transparency, better information sharing and improved social interaction for the crypto currency and digital asset markets. What we are doing here is bringing the "ACTION of crypto markets to a physical trading location. Why do people go to a football game or the sports book in a casino? They want to be part of the action and enjoy the thrill of that action with the crowd" continued Mr, Grede.
Mr. Patel continued "EV has already secured commitments from soon-to-be announced locations in key destinations where EV CDX venues will flourish. Growth is robust with commitments and hotels are already under development Arizona, Georgia, Florida, and California and India."
Brian J. Esposito, who functions professionally as the conduit that does what he does best in connecting & building value, was able to properly bring all these crucial pieces and players together. He said "I always say it's all about doing good work with good people on compelling projects. We would not have been able to create this opportunity if it was not for the amazing dedication and hard work of Mr. Patel and Mr. Grede, who are incredibly respected individuals in their industries, as well as dear friends and colleagues. The EV CDX concept on which we have been working very hard for over 5 years, is finally ready for the world to see. Many times, in my professional career I have been too early, and endured those missteps and costs. With that, the moment is now to change the game for hospitality; and combining that with digital assets. An exchange that is run by seasoned professionals that know to how to and have worked proactively with regulators, will create what I truly believe will be the most exciting, safe, and profitable Hotel Flag that has ever been launched." He continued, "It does not end here; we have many more exciting partnerships and announcements lined up which will be found at EV Hotel. It's all about creating a destination that will enhance the guests experience, create new sustainable safe jobs, and bring to the market one of the most desired hotel brands that the hospitality industry has ever seen."
About EV Hotel Group
EV Hotel, is the Atlanta-based brand that looks to revolutionize the hospitality industry with innovations through digital transformation. The initial EV CDX Hotel will be the world's first Crypto and Tech Hotel, that will provide the full scale of automation that streamlines operations and guest experiences. Each hotel facility will feature IOT devices that lessen the burden on the task-heavy systems in hospitality and drive more focus on service and guest engagement. Our partnerships for the inclusion of a physical trading floor experience, backed by a best-of-breed cryptocurrency exchange, will create an exceptional value add for the consumers and the industry into the future. EV Hotel has created the ultimate lifestyle experience for the guests with technology and crypto for an experience that surely has not been seen in Hospitality.
About CDX
Chicago Digital Exchange (CDX) is a Cryptocurrency and NFT exchange, which operates a Central Order Book (COB) that will deploy world class technology and infrastructure, a history of operating in a fully regulated exchange environment and a proven ability to generate trading liquidity worldwide. In augmenting its alignment with core prospective tenants of the digital asset era, CDX will also utilize blockchain technologies and smart contracts where appropriate in bringing efficiencies to exchange dynamics and empowering the customer.
CDX will deliver a safe, robust, reliable and fully regulated digital asset exchange designed to meet the requirements of institutional, professional and retail marketplaces. At all times, CDX will operate within unparalleled international regulatory compliance.
The CDX trading platform, is a proven, sophisticated, and secure digital asset (Crypto and NFT) trading ecosystem to meet the demands of institutions, broker-dealers, hedge funds, family offices, banks, market makers, global trading firms and retail clients.
Built by exchange and technology experts, the CDX team believes in the transparency and liquidity benefits of the traditional central order book and also that the efficiencies and empowering aspects of the latest blockchain technology will undoubtedly supplement and strengthen this traditional model.
Inquiries: EVinfo@EVHotelGroup.com
http://www.evaihotels.com