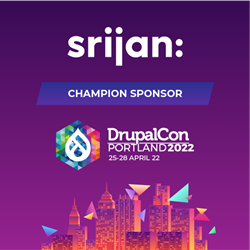 MANASQUAN, N.J. (PRWEB) April 11, 2022
Srijan is delighted to be a part of DrupalCon as a sponsor, presenter and attendee, yet again. DrupalCon, Portland, OR (25th - 28th April) has the participants & Drupal Community buzzing with excitement, as this is the first in-person event since the onset of Covid.
Srijan will be supporting the conference as a Champion Sponsor and exhibiting its expansive line-up of accelerators - EzContent, KubeDrop, and OpenDevPortal. These innovative products are built on Drupal and other open-source platforms that enable enterprises to quickly build engaging, secure mobile & web applications. EzContent has also been recognized at the Acquia Engage Awards as 'Open Source Giants'.
Also, Srijanites will actively participate in the Non-profit & Healthcare Industry Summit to connect with Drupal customers & industry enthusiasts. The team is presenting multiple lightning talks & moderating panel discussions; some of these talks are around:

About Srijan
Srijan is a global engineering firm that builds transformative digital paths to better futures for Fortune 500 enterprises to nonprofits all over the world. The company has championed open-source technologies over the last two decades, bringing advanced engineering capabilities and agile practices to some of the biggest names across Media & Publishing, FMCG, Aviation, Telecom, Technology, and others.
Srijan leads in Drupal with 350+ Drupal engineers and 80+ Acquia certified Drupal developers. The company is also a Drupal Enterprise Partner & Diamond Certified Contributor. To learn more, visit https://www.srijan.net/
About DrupalCon
DrupalCon is brought to you by the Drupal Association and dedicated community volunteers. It brings together a community of professionals from around the world who use, develop, design, and support the Drupal platform. Hosted between 25-28th April, the event will witness some great Keynotes & Sessions for leaders, developers, and end-users. This event offers a great opportunity to make connections that will fuel you and the project well after the event. To learn more, visit https://events.drupal.org/portland2022