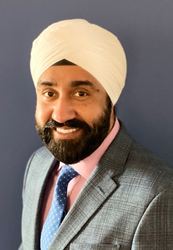 "With so many fantastic small businesses in the state of Maryland, I am truly humbled and honored to receive this recognition. This award reflects fantastic employees, a strong management team, great customers, and an employee-centric culture where giving back is at our core. -Tarandeep Bawa
SILVER SPRING, Md. (PRWEB) April 11, 2022
Tarandeep Bawa, ITegrity's President and CEO, was awarded this year's Small Business Administration's (SBA) Small Business Person of the Year Award for the State of Maryland. The Small Business Person of the Year award recognizes top entrepreneurs and their small businesses from across the country—noting their innovation, ingenuity, and creativity. To be eligible for this award, nominees had to meet rigorous criteria including a dedication to small business efforts through a substantiated history as an established business, expanded business growth in both employment and profit, resiliency to adversity, and a commitment to their community. ITegrity was able to meet this criteria through significant growth over the past several years and has expanded capabilities while receiving positive ratings from all customers.
Mr. Bawa has created a culture at ITegrity that recognizes the importance of not only taking care of its employees and clients but in giving back to the community. Under Mr. Bawa's leadership and through the pandemic, ITegrity actively participates in and contributes to community service groups and charities. Prior to the Covid-19 pandemic, ITegrity hosted events several times a year to directly support local charities and non-profits. These events ranged from making lunches for the homeless, assembling school supplies in backpacks for underprivileged local elementary schools, financial support to charities, toy collections, etc.
As an SBA 8(a) certified small business, ISO 9001, ISO 27001, and ISO 20000 certified, and CMMI Level 3 DEV&SVC rated business, ITegrity's (http://www.itegrityinc.com) mission has always been to provide innovative and cost-effective solutions in technical, engineering, and management solutions to the Federal Government. These services include Software Engineering and Application Support, Program Management, Business Intelligence, Cyber Security, Engineering Design & Configuration Management, and Telecommunications. ITegrity has established strong mutual relationships and respect among customers, partners, and employees. We have built a presence in the Washington Metropolitan area as a rapidly growing business leader. Other high achievements include:

Leadership Montgomery's 2021 Evolving Employee Volunteer Program Award—an award that recognizes businesses serving Montgomery County whose employee volunteer efforts have demonstrated growth through service to the community.
Making the Inc. 5000 list 3 years in a row recognizing exceptional growth.
Washington Technology Fast 50—recognition that acknowledges the fastest-growing small businesses in the government market according to annual growth.
ITegrity approaches each unique challenge with innovation and dedication; however, our true success comes from building quality relationships with each employee, customer, and partner. ITegrity takes great pride in delivering high-quality solutions through our top-notch staff with integrity, consistency, and vision.
"With so many fantastic small businesses in the state of Maryland, I am truly humbled and honored to receive this recognition. This award reflects fantastic employees, a strong management team, great customers, and an employee-centric culture where giving back is at our core. Performing selfless service is an aspect of my Sikh faith that I have imbued in our corporate culture," says Bawa. "These last few years have presented extraordinary challenges that this world never expected; however, our continued success shows discipline, strategic planning, and adhering to the core principles of the firm."
Each year, the Small Business Administration (SBA) celebrates National Small Business Week (NSBW) by recognizing the achievements of outstanding small business owners and entrepreneurs across the United States. The theme for 2022's NSBW is "Building a Better America through Entrepreneurship." Small business award winners will be formally recognized during the National Small Business Week Awards Ceremony on May 5th via virtual summit. The summit will recognize SBA small business partners for their impact on the economy and communities across the nation. For more information and to register, please visit http://www.sba.gov/NSBW.
"I am delighted to recognize our National Small Business Week winners from across the country who have stepped up to build their businesses, create jobs, and power historic recovery over the past year," says Administrator Isabella Casillas Guzman, head of the U.S. Small Business Administration. "Entrepreneurs are innovators and creators at their core, delivering the products and services we depend on and making our neighborhoods, towns, and cities more vibrant places to live and work. They give their all to achieve their American dream of business ownership and, by doing so, advance America's economy and global competitiveness. Our 2022 award winners represent the vibrancy and resiliency of our nation's 32.5 million small businesses, and I look forward to celebrating these small business giants and the positive impact they have had on lives and livelihoods in communities all across America."
More about ITegrity
Founded in 2009 and based in Maryland, ITegrity is an SBA 8(a) certified small business based in the Washington-Metropolitan area. ITegrity provides innovative and cost-effective technical, engineering, and management support solutions to the Federal Government. Our mission is to deliver state-of-the-art services to our clients based on an innovative approach, data driven solutions, and tailored solutions in information technology, engineering, and professional services. We pride ourselves on our commitment to integrity, transparency, and client satisfaction.
Connect with us online:
http://www.itegrityinc.com