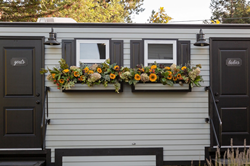 "The morning after my wedding, I asked friends what their favorite parts of the day had been. The bathrooms! So many people said the bathrooms! It made me laugh just how much they loved our Posh Privy bathrooms!" — Bride Sierra @ Private estate wedding
HEALDSBURG, Calif. (PRWEB) April 21, 2022
Entrepreneurial husband and wife power duo Marisa Manna Ferrell and Brian Ferrell, owners of popular So Eventful and The Posh Privy, announce the purchase of VIP luxury outfit Fancy Flush. With a full line of portable restroom styles that range from contemporary and modern to extravagant, Fancy Flush will join The Posh Privy, a top-of-the-line transportable restroom brand, as part of the Ferrell's wedding and event planning company portfolio.
"Fancy Flush and The Posh Privy have both focused on redefining the portable restroom experience by providing white-glove customer service and extremely high-quality facilities. They've each built respected names in the industry," says co-owner Brian Ferrell. "This expansion lets us serve more clients with varying needs, from the size of the trailer to a variety of different price points."
The acquisition officially expands the business to 22 trailers and represents a remarkable company growth of 2000 percent. See the full line and get more information at http://www.theposhprivy.com or (707) 395-POSH [7674].
Marisa Manna Ferrell started her Wine Country and destination wedding and events company, So Eventful, in 2008 at just 25 years old – her husband, Brian Ferrell, joining in 2016. Today, the family-run business is ranked at the top in the industry. It boasts over 20,000 followers on social media and Ferrell is an admired influencer in the events world. Recognizing an untapped niche in the industry, the couple launched The Posh Privy in 2017 to radically elevate the powder room experience at events. Marisa and Brian have achieved remarkable success in a competitive industry and all before the age of 40.
"Having a background in events lets us see the portable restroom business from the customer's point of view," says Marisa. "We understand production needs, schematics and layouts, event flow, and how to incorporate the overall decor and look of an event. That, combined with high-level customer service and a quality product, makes us a leader in the field. It's not just about dropping the trailer off."
The purchase of Fancy Flush significantly increases the number of events they will serve annually in addition to providing options to a wider variety of customers.
Their work has garnered them multiple Best Wedding & Event Planner awards and features in InStyle Magazine, SF Gate, Wedding Wire, The Knot, and more than 50 magazines and industry outlets. Community-minded, the couple support local organizations including Healthcare Foundation of Sonoma County, Center for Well Being, Corazon, and Volunteer Center of Sonoma County, to name a few.
Buzz from customers:
"The morning after my wedding, I asked friends what their favorite parts of the day had been. The bathrooms! So many people said the bathrooms! It made me laugh was just how much they loved our bathrooms!" — Bride Sierra @ Private estate wedding
"Who knew that my gorgeous estate wedding would be known for the high-quality bathrooms! Everyone commented on how nice the AC and the music were…and no one had to wait in a line." — Bride Ashley @ Viansa Winery
"Hands down the best bathrooms you could rent for any event. I could not be happier with the quality and the service that Brian provided. These are not your standard bathrooms. This is the company to work with." — Morgan @ Quivira Vineyards
Posh Social:
https://www.instagram.com/theposhprivy/