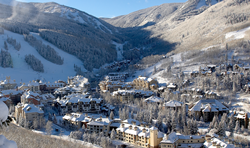 We are honored to have been selected by the St. James Place homeowners board and entrusted with the management of this spectacular property.
AVON, Colo. (PRWEB) April 28, 2022
East West Hospitality, the award-winning property management company and operator of luxury short-term vacation rental properties and resorts, announced today that it has been selected to manage the St. James Place. Located in the heart of Beaver Creek Village, this 112-residence condominium property is steps from the slopes of Beaver Creek Mountain and some of the finest skiing in North America. East West Hospitality will provide a suite of management services touching every aspect of the St. James Place's operations, from asset management and homeowner association management to capital planning.
"We are honored to have been selected by the St. James Place homeowners board and entrusted with the management of this spectacular property," said Colleen Weiss-Hanen, President and Chief Executive Officer, East West Hospitality. "With deep roots in the Vail Valley and an exceptional service culture, our team will deploy proven best practices gleaned from our extensive knowledge of the Vail and Beaver Creek area and more than 35 years in the business. We're excited to put our expertise to work on behalf of the St. James Place."
"We look forward to a collaborative partnership with East West Hospitality," said Art Morales, Board President of The St. James Place homeowners association. "A reputation for sophisticated resort asset management and exceptional service are what distinguish this team. We believe they will serve us well as trusted advisors, managing our current operation, and planning for the successful future of this extraordinary property."
As one of Beaver Creek's legacy properties, the St. James Place has been welcoming guests and owners to Beaver Creek for generations. Accommodations range from one-bedroom to four-bedroom condominium residences, each tastefully appointed and uniquely decorated. All residences have fully equipped kitchens, oversized bathrooms, fireplaces, washer and dryer, housekeeping, high-speed internet and indoor parking. World-class dining, shopping, services and year-round attractions are steps away, as are Beaver Creek Mountain's world-renowned slopes.
The St. James Place is the newest addition to East West Hospitality's $2 billion portfolio of high-end resort properties. Based in the Vail Valley for more than 35 years, the company continues to grow its national presence and was recently awarded several new management contracts. With the recently signed Frontgate | Avon, The Aspen Mountain Residences, Fallridge, The Charter at Beaver Creek, the Lodge at Lionshead, and Hapuna Beach Residences, East West Hospitality now manages over 108 buildings and associations and more than 6,600 residences in South Carolina, Colorado, California, and Hawai'i, from condominiums and townhomes to luxury private residences and resorts.
# # #
About East West Hospitality
East West Hospitality is a leading hospitality services company that actively manages a $6 billion portfolio of properties, including hotels, resorts, private luxury residences and vacation rentals, along with restaurant, spa, fitness, retail and commercial properties, in the most desirable leisure destinations. The company also provides in-depth asset and financial management services for more than 100 homeowner associations at high-end residential communities.
With more than 35 years of experience managing hotels, resorts and private residences, East West Hospitality's vacation rental, resort operations and asset management services are unparalleled. The company supports more than 3,400 residences with boots-on-the-ground teams in every location, enhanced by a 24/7 call center providing personal assistance and destination expertise to guests.
Decades of experience managing hotels, resorts, vacation rentals and iconic private residences have earned East West Hospitality its reputation among guests and property owners as one of the most trusted names in the hospitality industry.
East West Hospitality was named the Vail Valley's "Business of the Year" in 2018 by the Vail Valley Partnership, Colorado's "Best Property Management Company" by ColoradoBIZ Magazine and honored as one of the "Top 50 Best Places to Work in 2019" by Outside Magazine.
For more information about East West Hospitality, please visit http://www.eastwest.comeastwest.com or call 970-763-7126.
Media Contact:
Murphy O'Brien Public Relations
Brandon Muratalla | Stacy Lewis
EastWest@murphyobrien.com
310-453-2539