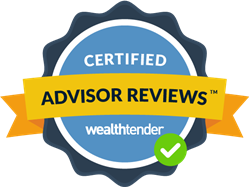 Wealthtender has emerged as a leading find-an-advisor platform and resource for fully-compliant advisor ratings and reviews.
HOUSTON (PRWEB) May 04, 2022
Wealthtender, the industry's first rating and review website built for compliance with the SEC Marketing Rule, announced today that Abundo Wealth has become the first SEC registered investment advisor (RIA) to fully utilize its Certified Advisor Reviews™ (CARs) solution to solicit and promote client testimonials.
The SEC's new rules governing online reviews and ratings for financial advisors became effective on May 4th, 2021, catalyzing a sea change in how consumers find and evaluate financial advisors.
Launched in 2019, Wealthtender has emerged as a leading find-an-advisor platform and resource for fully-compliant advisor ratings and reviews. Through its modern website and with the addition of CARs, Wealthtender provides an engaging experience for consumers to make more informed and educated decisions when choosing an advisor.
Wealthtender Founder and CEO Brian Thorp commented, "For too long, consumers searching for an advisor online have landed on directory websites displaying little more than basic contact details and data scraped from regulatory databases. Our initial success has been built on the clear interest among consumers in getting to know the human side of advisors through hundreds of articles and in-depth profiles we've published on wealthtender.com. And now, with Certified Advisor Reviews, consumers feel an emotional connection to advisors through authentic experiences shared by their clients. We're delighted that Abundo Wealth has committed so significantly to Wealthtender as part of its digital marketing strategy to create a more fulfilling experience for prospective clients and accelerate their national growth aspirations."
Added Abundo Wealth Founder and CEO Eric Simonson, "Abundo's core values are honesty and transparency, being different, and wowing our customers. Wealthtender is the first online platform that allows us to present these values elegantly and concisely to our audiences. Each Certified Advisor Review for our firm and advisors on Wealthtender offers prospective clients a unique lens into the Abundo client experience to help them decide if we're a good fit to work together. Collecting and promoting CARs on Wealthtender and abundowealth.com reinforces our commitment to honesty and transparency and accelerates the trust-building process."
Wealthtender CARs build trust by complementing key facts about an advisor (e.g., their credentials, experience) with relatable reviews from the advisor's clients, peers, and other acquaintances. This combination helps financial advisors increase engagement and convert a higher percentage of prospects into new customers.
In direct contrast to reviews posted on generic search engines, each Certified Advisor Review on Wealthtender is SEC-compliant and puts consumers' interests first with clear and prominent disclosures to judge the merits of each review. For advisors and wealth management firms with reviews published on non-compliant platforms, Wealthtender offers an automated import service at no cost to convert these reviews into CARs.
Alongside the engaging experience delivered to consumers who visit wealthtender.com, Wealthtender also offers a broad array of resources to help advisors and their compliance staff get started with testimonials and online reviews. This includes a focused playbook (available for download or at Amazon) and Wealthtender's SEC Marketing Rule Education Series comprised of articles, templates, and checklists. These resources, available by visiting this page, work together with Wealthtender's flat fee lead generation platform to help financial advisors attract their ideal clients online.

About Wealthtender
Wealthtender helps consumers find the best financial advisor for their individual needs through articles, guides, directories, and advisor reviews published on wealthtender.com. Financial advisors join Wealthtender to get more clients online with impactful digital marketing services for around $1/day. By bringing together thousands of consumers who visit wealthtender.com each month with financial advisors interested in growing their business, Wealthtender helps people enjoy life more with less money stress.
About Abundo Wealth
Abundo Wealth is on a mission to change the financial advice industry by bringing high-quality, conflict-free, comprehensive financial planning to everyone. Abundo Wealth charges a transparent start-up fee and a flat monthly subscription for its services, and nothing more. Individuals and families interested in learning more can visit abundowealth.com to read dozens of client reviews and schedule a free introductory call.