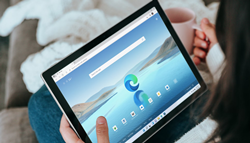 SAN ANTONIO (PRWEB) May 03, 2022
GoDaddy reseller Branchleaf Digital now offers businesses a convenient way to buy and register GoDaddy domain names directly through their platform. Here is what to know about this offering for businesses and entrepreneurs.
Finding and selecting the perfect domain name for your idea or business is key when staring a website. Using GoDaddy domain search, finding and choosing the right domain is a walk in the park.
First off, if you already have an idea of what you want to call your business or website, it's best to buy a register your domain name sooner rather than later. By waiting, you run the risk of someone else buying and registering the domain name you want before you.
How to find a domain with GoDaddy Domain Search
Finding a strong domain name isn't difficult, but as a business owner, you should put a little time into thinking about it before you buy and register a domain name. Before jumping into how to find your GoDaddy domain, here are a few quick tips to consider when picking a name:

Try choosing a name that is short and easy to remember.
Choose a name that is as close to the name of your business as possible.
Avoid names that are too long or hard to spell.
Come up with 2-3 different options, just in case the name you want is unavailable.
Lastly, consider selecting a domain with an extension people are familiar with (think .com, .org, .net).
1.Visit the GoDaddy Domain Search page: The first place to start in your search for a domain name is the GoDaddy Domain Search page.
2.Enter the name you want in the domain search field: From the domain search field, enter the name you want and select Search.
3.Add to cart: If the domain you want is available, simply select Continue to cart. If the name is not available, you may select an alternate name from the list of suggestions and choose Select before clicking Continue to cart.
4.Complete checkout
Once the domain name you want is in your cart, simply follow the prompted steps to complete the checkout process and purchase your domain.
These are the basic steps to finding a domain with GoDaddy domain search.
For more in-depth detail on these tips, see: How to choose and register a domain name for your website.
GoDaddy Domain FAQs
What is GoDaddy Domain Search?
GoDaddy domain search is a tool used to find and register available domain names on the web. It is also used to browse alternative domain names that are available for registration similar to the name that is initially searched for when using the tool.
Why register your domain name with GoDaddy?
Domain names are the number one product that GoDaddy sells and is known for. With 84+ million domains registered through the company, this makes GoDaddy the world's largest domain registrar.
This number of registered domains accounts for 20+ million customers who have found their domain with GoDaddy.
What if the domain name I want is unavailable to purchase?
If the domain you want is unavailable, this is usually because it is already registered and owned by someone else. In this case, there are a couple of options. When using the GoDaddy domain search tool, alternative options are always offered. These options are generally variations of spelling or with alternate extensions (such as .info or .net for example when .com is already taken). You can choose one of these alternate domain names if the one you want is taken.
Another option is that you can use a domain backorder service. With a domain backorder, you purchase a credit which gives you a better chance at securing the domain name you really want when it becomes available again for purchase and registration.
What can I do with a GoDaddy domain name?
Most people use their domain name to set up and create a website. But in addition, with a GoDaddy domain name, you can also create a professional custom domain-based email address. You can also connect your domain to an existing website or forward your domain.
If I already have a domain name elsewhere, can I just transfer it over?
Yes, you can. GoDaddy makes it simple to transfer domains if you already have a domain name at a different company. You simply enter the domain name you want to transfer into the domain transfer tool and then follow the promoted instructions to complete the transfer. Most domain transfers can be completed in about 5-7 days from the time they are initiated.
How much do domain names cost?
Most domain names are going to cost between $10 and $20 per year. For premium domain names, the cost is generally much higher. Premium domain names are a type of short, catchy, and memorable name, that are almost always already registered to another person, entity, or organization. Premium names are significantly higher in value, and thus the reason for the higher cost.
Does Branchleaf Digital offer any promos for domain registration?
Yes. When using the GoDaddy Promo Code GDD1dom, customers can receive 15% off most domain names when registering a name for one (1) or more years.
Can I register more than one domain name with GoDaddy?
Yes, you can register as many domain names as you want to with GoDaddy. There is no limit to the number of names you can register. In fact, it may even be a good idea to register several names that all point to your website. This can help in instances where a customer might accidentally type in a similar (but wrong web address) in a web browser when trying to reach your website.
How long can I register a domain name for?
GoDaddy domain names are registered for a minimum of one year at a time. Though many people register domain names for up to two years or more at a time. With domain privacy & protection, your domain automatically renews for you, so you never have to worry about manually renewing the registration period when it comes time to renew.
For more information about the services offered by Branchleaf Digital, visit branchleafdigital.com.