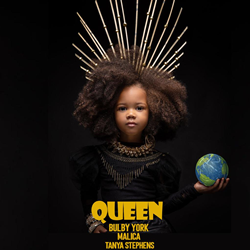 "One of the first lines I wrote was 'mind your manners when you talk to a Queen.' The one thing I want women to take away from this song is to not allow yourself to be separated from your royalty."
KINGSTON, Jamaica (PRWEB) May 06, 2022
Award-winning producer and engineer Collin 'Bulby' York believes that women should have more of a voice and presence in Jamaica's music industry. It is natural that he would pair two dynamic women, talented singer/songwriter Malica Stallworth and Dancehall icon Tanya Stephens, to drive the lead single for his untitled new album. "Queen," set to hit all platforms on Friday, May 20th, is a pulsing collaboration between these two powerhouses that encourages women to affirm their royalty, stand in their own power, and define their own paths.
"It is fitting for us to glorify the women around us," says Bulby. "We often overlook the importance of females, of what they have to offer. We treat them as if they are less than when in reality they do so much more and accomplish more with less support and recognition."
Malica, who was featured on the single "Wiggle Wiggle" with Beenie Man on Bulby''s Heartcrafted album in 2020, was inspired to write "Queen" after experiencing the disrespect shown to women, especially women of color, on public platforms, particularly social media. She was disturbed by the ways in which black women as a whole are judged and treated based on the actions of a small handful.
"If you listen to my verses, you'll hear affirmations - 'I know I am worthy, divine, and royal' is an affirmation for women," Malica says. "One of the first lines I wrote was 'mind your manners when you talk to a Queen.' The one thing I want women to take away from this song is to not allow yourself to be separated from your royalty."
The collaboration with Tanya Stephens was a welcome surprise to Malica, who feels that a lot of her work as a writer and singer comes from being raised on Tanya's music. Malica cites "Who is Tanya," from the highly acclaimed 2006 album Rebelution, as another source of inspiration for her writing on "Queen."
"After I put down my part, I said to Bulby that it would be amazing if Tanya was on this track," Malica recalls. "A few months later Bulby was like 'guess what…listen to this voice.' It brought tears to my eyes."
Malica's daughter, budding social media star and Queen-in-training, five-year-old Nailah 'Nailah Star' Stallworth, is featured in the single's cover art.
"It was Bulby's idea to use Nailah on the cover, and I am so proud and happy to share this experience with her," says Malica. "I've been teaching her that anything she does is going to be powerful because you are going to do it naturally. You be can be loved by the masses by just being yourself."
"Queen" by Bulby York featuring Malica and Tanya Stephens, released by Bulby York Music, is available for preorder on May 6th, and fully available on all platforms on May 20th.
###
About Bulby York/Bulby York Music
Collin 'Bulby' York is an award-winning producer and sound engineer who has worked with some of pop music's biggest stars over a career that spans more than 30 years. No Doubt, Rihanna, Cyndi Lauper, Madonna, Britney Spears, Sean Paul, Michael Franti and Spearhead, Beres Hammond, Sinead O'Connor, Bounty Killer, Tanya Stephens, and Chaka Khan are just a handful of the names that he has produced, engineered, and toured with over the years. Bulby was introduced to music through his uncle, drummer George 'Dusty' Miller of the Firehouse Crew, who brought him to the studio of dub legend King Tubby. In the 90s, Bulby was best known for his partnership with Lynford 'Fatta' Marshall as part of Fat Eyes Label. The duo struck gold with productions like the Hot Wax Riddim which spawned the hits "Memories" for Beenie Man and "Suspense" for Bounty Killer.
He launched his solo label Bulby York Music in 2016 with the release of Epic & Ting noted for the singles "Whom Shall I Fear" featuring Agent Sasco/Assassin with late singer Tenor Saw, and "Soul Almighty" pairing Jesse Royal with icon Lee 'Scratch' Perry. BYM released their next album Master Blaster in 2018, which included the smash single "Lots of Signs" with Christopher Martin and Beenie Man. The latest release was 2020's Heartcrafted which birthed the single "Wiggle Wiggle" with Malica and Beenie Man. In between albums, BYM has released juggling projects like Padang Padang in 2021 and The Far East Riddim in 2022.
About Malica
Growing up, Malica's father had one of Kingston, Jamaica's most popular sounds, Love Vibration Disco, and she was influenced daily by a plethora of music and musicians. Music was inevitable, and Malica has never been limited by musical stereotypes. She is an artist who adapts and masters all genres seamlessly. As a writer, Malica has shared writing sessions with talents such as Jennifer Hudson, Pressure Busspipe, Nailah Blackman, Cocoa Tea, Lamb, Anesha & Antea of APLUS, Rodney Jerkins, Kymani Marley, Farruko, and more.
Currently, Malica is the First Lady of Busspipe Records, where she is managed by Ronnie Tomlinson of Destine PR. Malica has worked on a multitude of projects with the help of Sly & Robbie, Salaam Remi, Bink, Commissioner Gordon, Walshy Fire of Major Lazer, Bulby York, Rodney Hill, Maffio, 12 Keyz, DZY, The Fanatix, Team Salut, Kirkle Dove, Vitaman, Tony Kelly, ShamTrax, Michal Teja & many more. She has also graced the stage and shared the spotlight with acts ranging from Buju Banton, Shaggy, Nick Cannon, Kymani Marley, Tory Lanez, Barrington Levy, Mavado, and Snoop Dogg to name a few.
About Tanya Stephens
Tanya Stephens is an influential reggae artist who emerged in the late 1990s, and is best known for her hits "Yuh Nuh Ready Fi Dis Yet" and "It's a Pity", which earned Tanya international recognition. Her album Rebelution was released in August 2006, and the first single "These Streets" was a number one hit in the Caribbean staying on Tempo's Chart at number 1 for more than 4 weeks. The album was totally sold out in Jamaica and other parts of the Caribbean. The track "Rosa" is a tribute to Rosa Parks.
Her early material was lyrically typical of dancehall and drew comparisons with Lady Saw, along with whom she was proclaimed "the top female artists in Jamaica" in 1998 by the Washington Post. Social scientist Clinton Hutton said of her: "She is very intuitively intelligent and deftly tackles relevant social issues".
Her 2001 album Sintoxicated saw her sign to Warner Music Sweden and make "a Macy Gray-style pop album with two Swedish producers, Emil Gotthard and Peter Cartiers."
In 2007, Stephens was awarded a scholarship by Resource Development International to study for a Business Management degree from the University of Sunderland.
Her other albums include Big Things A Gwan (1994), Too Hype (1997), Work Out (1997), Ruff Rider (1998), Gangsta Blues (2004), Infallible (2010), and Guilty (2013).