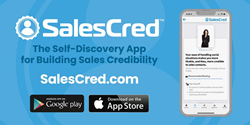 "If you're not getting referrals and repeat sales, your credibility may need a boost because referrals and repeat sales represent the results of having SalesCred at the highest levels."
WESTERVILLE, Ohio (PRWEB) May 12, 2022
SalesFuel announces the launch of SalesCred®, the new, free self-discovery app for salespeople who need to build sales credibility with accounts and prospects. The app is now available in both the Apple App Store and in Google Play.
SalesCred fills a need for sales reps who want to improve their skills early in their careers and proven performers who want to sharpen their skills and push into the next level. SalesCred creator, book author and SalesFuel CEO, C. Lee Smith, says his unique take on sales credibility is what has been sorely missing in the marketplace.
"For years, salespeople have had it exactly backwards – buyers qualify sellers, not the other way around. SalesFuel's proprietary study, 'The American State of Credibility,' shows only one in four Americans views salespeople as credible in what they say and do," says Smith. "Salespeople start from behind with every new business relationship they seek to make."
Boosting credibility fast is baked into all the functions and offerings of the SalesCred app, which also allows users to pull from SalesFuel's 30+ years of sales intelligence and consumer data.
The app seeks to help users improve mindset, skillset and toolset, offering free daily insights, mindset improvement tips, social intelligence, pre-call intelligence, skills development, and a certification/credential building badging program.
SalesCred also features the following personalized sales credibility functionality:

Guidance based on the salesperson's motivators and work trait scores
Tips based on their personal LinkedIn profile
Tips based on the LinkedIn profiles and article posts of the companies they represent
"If you're not getting referrals and repeat sales, your credibility may need a boost because referrals and repeat sales represent the results of having SalesCred at the highest levels," says Smith. "This app is a terrific, effective tool for you to immediately start solving the issues that are causing mistrust in prospects and clients and to help you quickly become a trusted advisor to their business."
Get the SalesCred app in the Apple App Store or in the Google Play Store. The app is free with in-app subscription purchases available.
About SalesCred App Creator C. Lee Smith:
C. Lee Smith is one of the country's foremost experts on developing high-performing sales teams and a groundbreaking thought leader on sales credibility. A Certified Behavioral Analyst, he has more than 30 years of experience in sales and sales management. He created SalesCred®, as well as AdMall®, the nation's leading provider of consultative sales intelligence, and TeamTrait™, which uses psychometric assessments to identify high-potential sales candidates and evaluate an organization's current team strengths, weaknesses and job fit. Lee is the author of "SalesCred: How Buyers Qualify Sellers" and "Hire Smarter, Sell More!", a dynamic keynote speaker, C-Suite Network Advisor and co-host of the Manage Smarter™ podcast. He is named one of Selling Power Magazine's Leading Sales Consultants for 2022 and SalesFuel is one of Selling Power's Top Sales Enablement Vendors for 2022 as well.
About SalesFuel®:
SalesFuel is a leading sales research firm that enables our clients to attract, grow and retain their best customers and employees with certainty. Our SaaS-based portfolio of sales tools, training and intelligence provide thousands of sales teams nationwide with the power to Sell Smarter®. Our platforms leverage data and critical insights that empower executives, sales managers, recruiters, and their teams to attract a higher level of talent and clientele.
We believe that business today must be data-driven, adaptive, caring, and consultative. It is all about intelligence – the vital information you cannot find in a Google or LinkedIn search. But it is also about knowing how to leverage that intelligence into productivity – and our team of sales, marketing and management strategists is here to guide you every step of the way.
Our portfolio of sales solutions includes:
SalesCred® App – The SalesCred mobile app helps sales professionals earn trust with buyers by improving their credibility, mindset, sales skills and pre-call research. It's a self-discovery tool providing customer data, conversation starters, customized strategies based on your psychographic profile and more. The app is free for download in the Apple App Store and the Google Play store.
AdMall® – Providing tactical business intelligence for local marketing and media sales, AdMall makes selling easier, improves marketing results and quickly generates return-on-investment.
TeamTrait™ – Uses psychometric assessments to analyze the behavioral traits and business acumen of candidates, current team members and sales teams. TeamTrait equips managers with the data to: Identify high-potential candidates; Evaluate a team's strengths, weaknesses and job fit; Build high-performing teams, pinpoint professional development needs and retain talent.
Sales Manager Training – The online sales manager training course every sales manager needs to immediately increase effectiveness and drive sales growth.
Named as one of the Top 10 Sales Enablement Vendors for 2022 by Selling Power Magazine, SalesFuel was founded by C. Lee Smith in Columbus, Ohio in 1989 with a simple objective: Sales are the revenue engine of your company; we provide the fuel. C. Lee Smith is also named for 2022 by Selling Power as a Leading Sales Consultant. Lee is also the author of Amazon International bestselling books "SalesCred: How Buyers Qualify Sellers" and "Hire Smarter, Sell More!"
For more information, please visit https://salesfuel.com and https://www.linkedin.com/company/sales-fuel/.