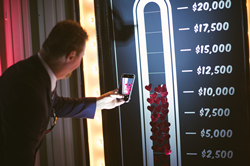 No matter what these kids' circumstances are, they're still showing up every day, and usually with smiles on their faces. So tonight, let's show up for them.
JACKSONVILLE, Fla. (PRWEB) May 14, 2022
CSI Gives Back, the charitable giving division of CSI Companies, held its third annual gala benefitting children and local initiatives in the Jacksonville community. The 1950s aviation-themed event occurred on April 30th, 2022, at Generations in Aviation Marco Hangar located at Jacksonville Executive Craig Airport.
Around 250 people attended the gala and partook in an eventful evening viewing some of the most exquisite vessels in aviation. Proceeds were raised through partnerships, a silent auction, blackjack, and the purchase of flight pins – each colored pin represented a different level of donation support.
CSI Gives Back Director, Becky Lowry kicked off dinner and shared the importance of the night. She explained the deprivation of clothing, food, shelter, and other essentials among Jacksonville children.
"No matter what these kids' circumstances are, they're still showing up every day, and usually with a smile on their face. So tonight, let's show up for them," she said.
Several guest speakers proceeded by sharing the impact CSI Gives Back had on their organization throughout 2021, including the Principal of Charger Academy Middle School, Andrea Y. Talley.
Talley jumped to her feet motivating the crowd to purchase flight pins and fill the "thermometer," which indicated the current money raised. "Fill that gauge! Fill that gauge," she chanted over and over. CSI Gives Back has shown its support to Charger Academy through the donation of school supplies, field trips, in-person visits, and more. Talley has seen a drastic change in her student's morale and academic achievements.
This year's gala was CSI Gives Back's first-ever six-figure event. The proceeds will continue to benefit First Coast Children.
Board Secretary of CSI Gives Back, Deborah Valentine is humbled by the turnout and has big plans moving forward.
"Our goal is for people to be able to look back and say, 'I am where I am today because CSI Gives Back watered the seeds in my life,'" she said.
Beneficiaries of 2021 included: The Duval County Public School's Clothing Closet, Sadie T. Tillis Elementary, Charger Academy Middle School, Hunger Fight, Down Syndrome Association of Jacksonville, Grit Camp, Jacksonville Humane Society, Twin Lakes Academy Middle School, Andrew Jackson High School, American Lung Association, Stem Goes Red, Dreams Come True, and more.
About CSI Gives Back
On Jan. 9, 2019, The CSI Companies established CSI Gives Back, its charitable giving division, as a dedicated 501(c)(3) organization. In 2020, CSI Gives Back raised more than $40,000 in support of local organizations and continues to expand its efforts across Duval County each year. To learn about CSI Gives Back and its initiatives, visit csigivesback.org.