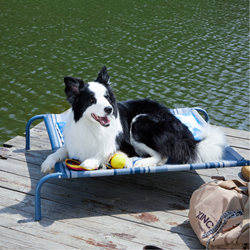 NEW YORK (PRWEB) May 17, 2022
Lesure, an Amazon-exclusive brand dedicated to improving the lives of pets and their owners, is excited to announce the launch of its Summer Must-Haves Collection. In line with the brand's overall mission to provide affordable products that offer optimal comfort at home or on the go, each item is uniquely designed to cater to all pet needs this summer.
As consumers gear up for what is forecasted to be one of the busiest summer travel seasons, Lesure's newest launches ensure every pet will stay cool, safe, and comfortable, further emphasizing the brand's belief that better products lead to improved behavior and health. Hero products include:

Pet Cooling Mat: As temperatures heat up, keep pets cool with Lesure's Pet Cooling Mat, made with high-density foam and a PVC-coated surface for easy cleaning. Simply fill with cold tap water and the mat will work quickly to cool down dogs and cats, whether road tripping, adventure hiking or relaxing. The mat is portable and easily transferrable, so it can be taken on any summer trips to accommodate pet needs.
Cooling Elevated Pet Bed: Elevate your pup to a new level of relaxation this summer! Furry friends can stay comfortable and enjoy all the action above the splash zone while owners lounge poolside, as the bed's off-the-ground design promotes increased airflow on all sides to keep dogs cool and dry. Strong, breathable fabric provides an added level of comfort and support, while a sturdy steel frame with skid-resistant feet offers extra stability – perfect for dog-lovers who are constantly outside!
Pet Carrier: Whether exploring the city or jet-setting to a new place, Lesure's pet carrier ensures our beloved dogs and cats always feel at home by their owner's side. Three sides are made of Teslin mesh for effective ventilation, and the medium size is TSA-approved for any airplane adventures. The carrier's design includes high-quality metal hooks, a self-locking zipper and safety leash to ensure security, along with several pockets for storing travel essentials.
"We are thrilled to announce the launch of Lesure's latest campaign and collection, Summer Must-Haves for Comfy Pets," said Marina Fernandez, Lesure Brand Director. "With summer travel and staycations ramping up and many expected to bring beloved pets along, we are dedicated to ensuring furry friends have access to what they need for a cool, comfortable summer. The line is designed with both pets and pet parents in mind, with unmatched comfortability, style, and pricing."
To celebrate the launch and the arrival of summer, Lesure will be offering customers 35% off products featured in the collection with discount code SUMMERFUN35 and 25% off all other items using the code LESURETOP25, from May 23rd to June 5th. All Lesure products can be purchased through the brand's Amazon storefront page, here.
About Lesure
Established in 2021, Lesure is a modern pet brand under Bedshe International Company, Ltd. Lesure's goal is to create products that deliver optimal comfort and provide every opportunity for animal companions to thrive, further ensuring pet health and wellness is top of mind for all owners. The brand's versatile designs, paired with a clean and modern aesthetic, accommodate varying styles and allow for products to fit seamlessly in any home. All products are created with both the pet and pet owner in mind, with unmatched style, comfortability, and pricing. For more information, check out Lesure's storefront on Amazon and stay up to date with the brand on Instagram and Facebook (@lesurepet).