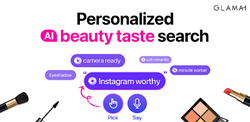 Glamai gathers open-source data from websites, beauty retailers, and social media to provide a breakdown of product overview in context-based keywords
NEW YORK (PRWEB) May 26, 2022
Glamai is a beauty discovery app designed to help beauty influencers discover the latest and newest products based on their unique needs and tastes to find the best match.
Harnessing the power of data and Artificial Intelligence, the Glamai app curates information about beauty products from brands' websites, affiliates and major US beauty retailers such as Sephora, as well as various social media platforms, into bite-sized "keytalks" (keyword + talks) to make them discoverable.
The app has accumulated over 19,000 keytalks and provides real-time information recommendations based on what you're looking for, ranging from "Moisturizers You Need This Summer" to "Dewy Glow, Plumping Skin Treatments," said Emma Kim, CEO of Glamai.
"Beauty influencers are constantly on the lookout for the best products, but the reality is that we all have different beauty concerns and conditions, so there's no one size fits all recommendation for skincare and cosmetics."
"Glamai helps influencers find the right keytalk for each product, so it's easier for them to describe who the recommendation is relevant for and what other alternatives are available for people with a different skin condition but looking for a similar effect."
Powered by Mycelebs AI Ops Engine, the platform aims to enable all forms of beauty by curating real-life, context-based information to help consumers make better-informed beauty decisions.
"Glamai will fill in the information gap in the beauty industry and help advance diversity in terms of cosmetics and skin care needs for various ethnicity, age, culture groups, and occasions," added Kim.
Glamai is available to all kinds of beauty influencers, including beauty professionals and content creators, and is available on iOS and Android. Keytalk ranks are also available on website at http://www.glamai.com.
About Mycelebs
Mycelebs is an AI solutions company helping businesses automate digital tasks and cut operational costs. Founded in 2016, Mycelebs is an AWS Advanced Technology Partner and has over 120 patents registered globally. In 2020, Mycelebs launched an AI beauty assistant Glamai in affiliation with Sephora, and an AI hotel booking service Staypia in affiliation with HotelsCombined. In 2021, Mycelebs was named one of the three finalists for the LVMH Innovation Award in the Data & AI category.
Website: https://corp.mycelebs.com