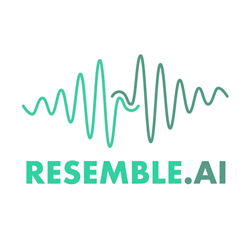 "We're particularly excited to partner with Talkdesk to bring the 'voice of the customer' to life," says Resemble AI's CEO Zohaib Ahmed. "While it previously took months of research and planning to establish a consistent voice across channels, now companies can get up and running in minutes."
TORONTO and SAN FRANCISCO (PRWEB) May 24, 2022
Resemble AI today announced the launch of Resemble AI voices on Talkdesk® AppConnect™, enabling businesses to seamlessly combine high quality, pre-built and custom AI voices for Talkdesk virtual agents and Talkdesk Studio visual routing designer.
Talkdesk AppConnect is an industry-leading customer experience solutions marketplace featuring a broad range of advanced applications, out-of-the-box integrations, devices, and services that give businesses the flexibility to rapidly expand their contact center capabilities. With more than 80 available solutions, AppConnect provides enterprises with access to all the tools they need to remain agile and flexible in response to today's evolving customer needs.
For customers with Talkdesk virtual agents and Talkdesk Studio visual routing designer, Resemble AI's generative custom AI voice solution enables brands to create unique AI voices or choose a voice from a library of high quality pre-built voices generated by Resemble AI. Within minutes, customers can have a branded AI voice that's consistent across all their channels.
Resemble AI and all AppConnect offerings are fully vetted and available in a streamlined interface that makes buying and connecting simple. Customers can also try many AppConnect applications before purchasing to ensure they are building the best contact center stack for their needs.
"We're particularly excited to partner with Talkdesk to bring the 'voice of the customer' to life," says Resemble AI founder and CEO Zohaib Ahmed. "While it previously took months of research and planning to establish a consistent voice across channels, now companies can get up and running in minutes using Resemble AI on Talkdesk AppConnect."
"With the addition of Resemble AI to Talkdesk AppConnect, businesses can now quickly and easily integrate custom voice AI technology into their contact center solution to further enhance the experiences they provide their customers, and leverage those experiences to create a competitive advantage in the market," said Robert Gavin, vice president of alliances and technology partners, Talkdesk.
About Resemble AI
Resemble AI's technology is being used by some of the largest media companies in the world to create content that was previously impossible. Whether it's transferring voices into multiple languages, creating thousands of dynamic personalized messages from celebrities, or creating unique real-time AI synthetic voices for conversational agents, Resemble AI is changing how content is created.
With Resemble AI, creating engaging and high-quality voice content is now easier than ever, enabling content creators to add a whole new level of authenticity to their work, and will add a new level of immersion for the audience. Learn how to create your own unique AI voice on Resemble AI.