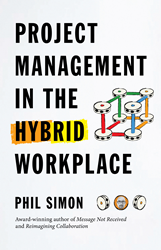 "A great book. Simon makes essential points about contemporary operations in a fun and interesting way."–Dr. Peter Cappelli, Professor of Management, University of Pennsylvania Wharton School and author of The Future of the Office
GILBERT, Ariz. (PRWEB) June 15, 2022
"We were never very adept at managing projects and launching products before the pandemic," says award-winning author and world-renowned workplace-tech expert Phil Simon. "The Project Management Institute has long reported that about half of all projects miss their mark—and that was when we could tap our colleagues on the shoulder and get quick answers to our questions. Bottom line: The rise of remote and hybrid work has complicated project and product management."
Fortunately, Simon sees a way to navigate the chaos of Zoom meetings, the Great Resignation, tech overload, rampant misunderstandings, incessant alerts, and the other challenges inherent in asynchronous work. He details his recommendations in his new book Project Management in the Hybrid Workplace—his timely and highly anticipated follow-up to his award-winning text Reimagining Collaboration.
In his inimitable style, Simon adeptly fuses critical research and concepts from diverse and seemingly unrelated fields, including Agile software development, human resources, supply chain management, organizational behavior, cognitive psychology, and labor economics. Brimming with detailed case studies, penetrating insights, and practical advice, Simon's twelfth book is a tour de force.
Product owners, new and seasoned project managers, service providers, team leads, freelancers, and small business owners will benefit from Project Management in the Hybrid Workplace.
Watch the book trailer here.
Media copies are available upon request.